For Immediate Release
June 10, 2020
Thirty-One Earn NJCAA All Academic Status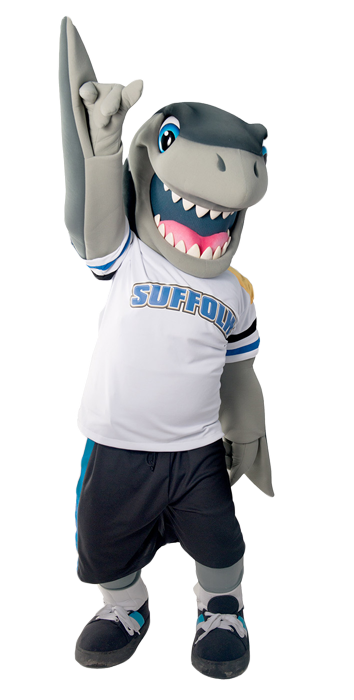 Suffolk County Community College Sharks!
Suffolk County Community College student-athletes have earned National Junior College Athletic Association (NJCAA) All Academic Status. The NJCAA recognizes three teams per academic year among students who have accumulated a minimum of 24 credits. Thirty-one students earned the honor.
"Congratulations to our Sharks for demonstrating both academic and athletic prowess. The NJCAA academic team designations demonstrate the dedication and commitment our student-athletes and staff have made towards achieving success academically," said Suffolk County Community College Interim President Louis Petrizzo.
Suffolk also had 65 student - athletes named to the NJCAA Spring 2020 All Region Team that recognizes those with a minimum GPA of 3.25.
1st Team (4.0 GPA):
Jevoun McKellar (Kingston, Jamaica) - Men's Soccer
Norman Coleman-Goodwin (Coram) - Baseball
2nd Team (3.80 – 3.99 GPA):
John Gillis (Farmingville) - Lacrosse
Christopher Russo (Smithtown) - Lacrosse
Angela Aruanna (East Patchogue) - Women's Tennis
Gabriela Ulloa (West Sayville) - Women's Tennis
Kayleigh Milton (Kings Park) - Women's Soccer
Emily Sannuto (Lake Ronkonkoma) - Softball
Stephanie Cardalena (Hicksville) - Women's Cross Country
Allaura Dashnaw (Centereach) - Women's Cross Country
Daniel McMahon (Port Jefferson Station)- Men's Cross Country
Muhammad Shah Sawar (Brentwood) - Men's Tennis
Kevin Hahn (Bayport) - Baseball
Jennifer Gainsford (Selden) - Women's Bowling
Taylor Stepanek (Ronkonkoma) - Men's Basketball
Karen Barrera (Bellport) - Volleyball
3rd team (3.6 – 3.79 GPA):
Dina Kessinger (Lindehurst) - Softball
Nina Bonetti (Bayport) - Women's Cross Country
Matthew Calogianes (Deer Park) - Men's Cross Country
Christopher Siejka (Jamesport) - Men's Tennis
Isaiah Brown-Rodriguez (West Islip) - Men's Bowling
Justin DiMaggio (Holtsville) - Men's Bowling
Talia Perez (Central Islip) - Women's Bowling
Reanne Southard (Middle Island) - Women's Bowling
Lindsey Devine (Hauppauge) - Women's Basketball
Latavia Stevens (Brentwood) - Women's Basketball
Malaika Pierre-Louis (Brentwood) - Women's Track and Field
Bianco Volino (Coram) - Women's Track and Field
Russell Magnussen (Mount Sinai) - Lacrosse
Devin Luper (Manorville) - Men's Soccer
Angela Orellana (Brentwood) - Cruz - Women's Soccer