For Immediate Release
November 12, 2020
SUNY Chancellor Appoints Suffolk's O'Neill to Newly Formed Veteran and Military Action Council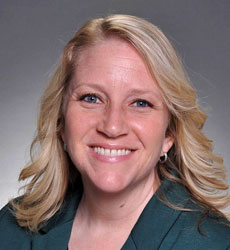 Shannon O'Neill
State University Of New York (SUNY) Chancellor Jim Malatras has appointed Suffolk County Community College's Director of Veteran Affairs Shannon O'Neill to a newly formed SUNY Veteran and Military Action Council that will help expand access and lower higher education costs for military-connected students.
"It is an honor to serve on the Chancellor's committee," O'Neill said, "and I am proud that Suffolk County Community College is a leader in the exemplary services we provide to our military connected students."
"I extend my thanks to the Chancellor for selecting Shannon and to Shannon for accepting this important assignment on behalf of our veterans and the College," said Interim College President Louis Petrizzo. "At Suffolk we feel an obligation to provide a welcoming environment where veteran and active students are fully supported and guided on the road to success."
The council will make SUNY the most inclusive system for military-connected individuals in the nation, starting with their work to enact the following changes by fall of 2021:
Program to close a key gap in tuition assistance for all Active Military, Reserve, National Guard, specifically reducing tuition to $250 per credit military-connected students. Overall, the goal of VMAC would be to save military-connected students $5,000 over the course of four years. Studies have shown that closing the tuition gaps for active servicemembers, veterans, and their families has increased overall enrollment in college. For example, at SUNY Empire State College where the campus expanded its fee waivers for the spouses of all veterans, enrollment rose more than 50 percent over the prior year period.
Releasing comprehensive implementation strategies to transfer military service to college credit at all SUNY schools.


Establishing priority registration for all military-connected students.
Suffolk County Community offers a comprehensive menu of benefits for military-connected students
Suffolk is designated as a Vet Success on Campus program through the United States Department of Veterans Affairs – one of 104 in the country and one of three in New York State.


Suffolk County is home to the most veterans in New York State.


The college offers courses at the 106th Air Rescue Wing at Gabreski Airport to help Airmen become eligible for their CCAF degree


Suffolk County Community College is consistently named Best for Vets and Military Friendly


Student centered programming throughout the semester to assist in the transition from military to civilian life such as Warrior Wednesdays, Warrior Ranch Foundation, Witness to Liberation, 22 push up events, Veterans Generations panels, a formal veterans day ceremony on each campus – challenge coin presented to all those that served, Life of a Service Member, Women in the military panel, enrollment events for prospective students and transfer fairs


Freshman seminar for Veterans and separate Veterans Orientation program.


Graduation and SALUTE ceremony to honor out honor society inductees and to present the red, white and blue graduation cords. SALUTE stands for Service, Academics, Leadership, Unity, Tribute and Excellence. The 2020 ceremony had the President of the National Chapter of the Student Veterans of America, Jared Lyons as the keynote
SUNY Veteran and Military Advisory Committee Members
Co-Chair Havidán Rodríguez, President, University at Albany
Co-Chair Robert Nye, President, Finger Lakes Community College
Executive Director Aaron Gladd, Chief of Staff, SUNY System Administration
Crystal Rodriguez-Dabney, Chief of Staff, Buffalo State College
Desiree Drindak, Director for the Office of Veteran and Military Education, SUNY Empire State College
Eric Farina, Director Veteran Affairs, Farmingdale State College
Patrick Massaro, Director of the CREST Center and Veteran Coordinator, SUNY Canton
Shannon O'Neill, College Director of Veterans Affairs, Suffolk Community College
Diana Pasterchick, Coordinator of Veterans and Military Affairs, SUNY System Administration
Benjamin Pomerance, Deputy Director of Program Development, New York State Division of Veteran Services
Dan Ryan, Director, Veteran Services, University of Buffalo
Eric Wheeler, Asst. Director, Veterans Services, Monroe Community College