For Immediate Release
March 3, 2020
Suffolk Professors Intro Tech to High School Girls at April Event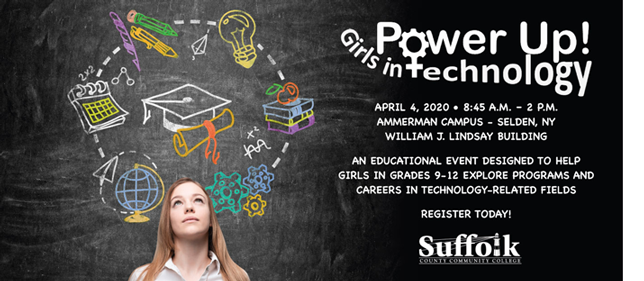 Suffolk County Community College's exciting educational event for girls in grades 9-12, Saturday April 4 from 8:45 am to 2 p.m. on the Ammerman Campus in Selden.
In several studies, when children were asked to draw a mathematician or scientist, girls were twice as likely to draw men as they were to draw women, while boys almost universally drew men, often in a lab coat.
Enter six successful female professors at Suffolk County Community College who have planned a day to encourage young girls in grades 9-12 to learn more about science, engineering, technology and math.
Natalie Niemann, Professor of Construction/Architectural Technology; Dr. Susan Frank, Professor of Cybersecurity; Teresa Noto, Professor of Automotive Technology; Christina Johnston, ITS Trainer; Dr. Glenda Denicolo, Professor of Physical Sciences and Gayle Sheridan, Assistant Academic Chair of Communications/Radio/TV/Film will all lead specialized, hands-on breakout sessions that will engage, inform and educate young girls about the rewarding and exciting college and career paths they can explore and be successful in.
The nearly day-long event at Suffolk County Community College's Ammerman Campus in the new and high-tech William J. Lindsay Life Sciences Building is designed to help girls in grades 9-12 better understand and explore careers in Architecture, Automotive Technology, Coding and Engineering, Cybersecurity, Information Technology, and Radio/TV Production.

Learn more and register at: https://www.sunysuffolk.edu/power-up/index.jsp