For Immediate Release
June 25, 2019
Presidential Lecture Series: Decorated Veteran and Leader Inspires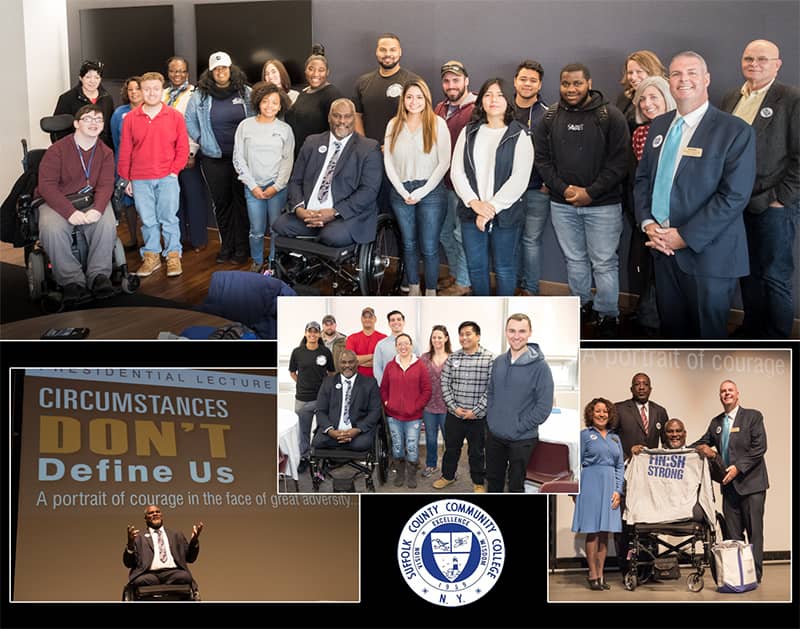 Suffolk County Community College President Dr. Shaun L. McKay welcomed West Point graduate, Purple Heart recipient and 25-year career army officer retired Colonel Gregory D. Gadson to the Michael J. Grant Campus' Van Nostrand Theater on October 30.
Colonel Gadson spoke to enthusiastic students, student veterans, high school students and guests as part of the college's Presidential Lecture Series.
In May 2007, as commander of the 2nd Battalion, 32nd Field Artillery in Iraq, Col. Gadson was severely wounded by an improvised explosive device and lost both legs above the knees and normal use of his right arm and hand. Despite his wounds, Col. Gadson remained on active duty and inspired many with his message of courage, perseverance, determination and teamwork.
Col. Gadson was commissioned as a 2nd lieutenant of Field Artillery in 1989 after graduating from West Point. He has served in every major conflict of the past two decades, including Operations Desert Shield/Storm in Kuwait; Operation Joint Forge in Bosnia-Herzegovina; Operation Enduring Freedom in Afghanistan and Operation Iraqi Freedom. Col. Gadson is a passionate advocate for wounded warriors, veterans and those with disabilities; on several occasions he has testified before Congress about issues related to these groups.