For Immediate Release
December 10, 2020
Do You Hear What I Hear? College Radio Plays Holiday Classics!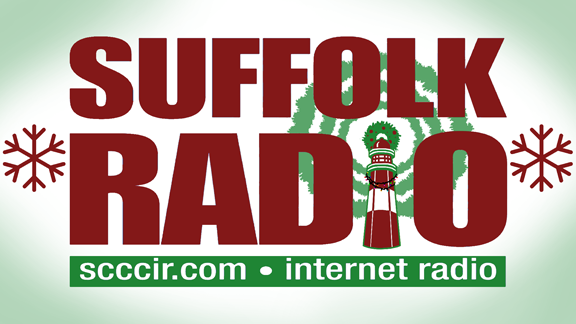 radio station logo holiday themed
Deck The Halls
with boughs of holly, it's the time of the year for
Jingle Bells
and
Let it Snow, Let it Snow, Let it Snow
! And there's no better way to foster holiday spirit than giving a listen to Suffolk County Community College Internet Radio (www.scccir.com) and its full line up of hits and holiday music.
"The holidays are all about giving, and Suffolk Radio wants to give our listeners nothing but the best music for the holidays! Whether you're out shopping, working late, home for the holiday, or anything in between, we are your perfect holiday season soundtrack," said Suffolk County Community College student and Program Director of Suffolk Radio Joe Adelmann.
"As a primarily student run radio station, Suffolk Radio programs what our student staff and listeners suggest, so we're pleased to add a variety of holiday programming to our "Fresh new variety of hits from yesterday and today," said station General Manager Bill Whitnum.
Suffolk kicks off the
Happy Holiday/Holiday Season
on Monday December 3 when the station begins playing three holiday cuts per hour through December 9.
Do You Hear What I Hear?
You should because beginning December 10, Suffolk County Community CollegeIR.com will be spinning 5 holiday favorites per hour for Suffolk's loyal listeners, right through to December 16.
And as Christmas fast approaches, you can
Sleigh Ride
to seven holiday songs per hour from December 17 to 20.
Have Yourself a Merry Little Christmas
with nary a
Silent Night
from December 21 to the 25th with 24 hours of holiday selections. Tune in to Suffolk County Community College Radio at www.scccir.com, 24 hours per day, 7 days a week. The station takes requests, too!