For Immediate Release
August 7, 2019
Santiago Named Executive Director of Suffolk Center for Social Justice and Human Understanding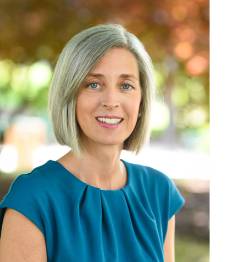 Jill Santiago
Jill L. Santiago of Middle Island has been named executive director of the
Suffolk Center for Social Justice and Human Understanding: Featuring the Holocaust Collection
it was announced by Suffolk County Community College.
A graduate of Suffolk County Community College, Stony Brook University, B.A. Sociology; and Queens College, M.A. History, Santiago launched her career at the Center for Social Justice and Human Understanding as a student volunteer more than a decade ago and has been involved in the development of educational programming and expansion of community outreach to significantly grow programs on and off Suffolk's three campuses. The Center now reaches more than 8,000 participants each academic year.
Santiago also teaches courses at Suffolk about the Holocaust and Western Civilization.
The Center for Social Justice and Human Understanding Inc. featuring the Holocaust Collection's mission is to educate the community about historical events, and to promote cultural understanding and respect for human dignity. The collection features rare artifacts, memoirs, documents and photographs that are interpreted and presented in permanent and traveling exhibits.
Guided tours are available for classes and groups. The Center's staff also arranges diversity and intercultural programs that focus on social justice issues and promote themes of coexistence, tolerance, and respect for differences.
The Center is located at Suffolk County Community College's Ammerman Campus in Selden, in the Huntington Library, 533 College Rd, Selden, NY 11784.