For Immediate Release
March 11, 2021
Citizen. Student. Soldier. Sarah John Serves and Studies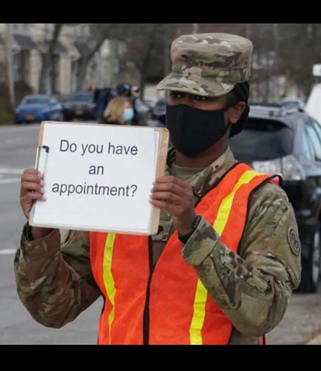 New York National Guard Army Specialist and Suffolk student Sarah John
Coram's Sarah John was barely three months into her first semester at Suffolk County Community College when duty called, and New York National Guard Army Specialist Sarah John was deployed to Staten Island at the beginnings of the global pandemic to help secure a COVID-19 testing facility.
"This has been life changing. It has been great to be able to help people. That's what this is all about. The National Guard is all about helping the community," John said.
"We could not be more proud and grateful for Sarah. She is an exceptional student and an exceptional soldier. We are grateful for her service and her sacrifice and recognize that she is a true example of leadership both in the classroom and in her community," said Suffolk County Community College Director of Veterans Affairs Shannon O'Neill.
Still deployed nearly one year later, John, a 2018 Longwood High School graduate, routinely works 12-hour shifts, sometimes overnights, and continues to attend classes remotely at Suffolk.
"The military is paying for my education," John explained, and that is my motivation. There were times when I was frustrated and wanted to give up," she said, but, "In my family we do not take school lightly. My parents are not from this country and we try to take every opportunity we can to excel and achieve. I was born here and want to take every opportunity I can to do better. I want to do my best. I don't make excuses."
John said her that latest mission at an armory in New York City occasionally allows her time to crack open a book and catch up on reading assignments. It wasn't always that way.
"When I was deployed to the Javits Center I worked overnights keeping the building, which had been turned into a field hospital, secure," John said "checking the many entrance and exit doors, making sure that anyone in the building was authorized to be there. When I completed my shift, I returned to my hotel at about 6 or 7 a.m., took a shower, took an hour nap and then attended class."
John said that since being deployed on March 18 of last year she's not been able to get home much but has enjoyed her experience helping people and being able to continue attending classes at Suffolk.
A liberal arts/general studies major, John said that she will graduate from Suffolk in December.