For Immediate Release
October 27, 2020
Suffolk Awards First-Ever Fellowship to Provide Experiential Learning to Vet Tech Student Amanda Schneider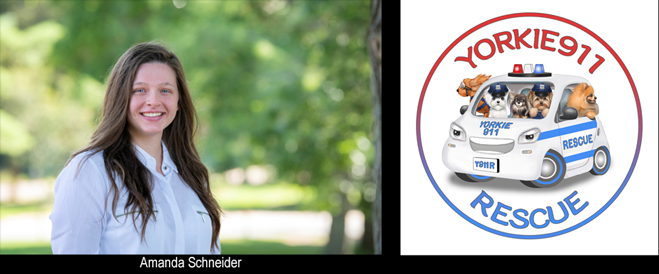 Suffolk County Community College Veterinary Science Technology student Amanda Schneider
Suffolk County Community College Veterinary Science Technology student Amanda Schneider has been awarded the College's first-ever fellowship -- The Tony & Luke Russo Veterinary Science Technology Fellowship. Schneider will garner valuable experience and help Smithtown's Yorkie911 Rescue while working toward her degree at Suffolk.
"I have an unbelievable amount of passion for all animals," Amanda wrote in her application essay and related that a stray Jack Russell Terrier mix she rescued when she was growing up changed her life. "This one small canine changed my entire world in more ways one could see …" Amanda wrote that she plans to become a Veterinarian Technician and then pursue a Doctor of Veterinary Medicine degree and ultimately open a practice with a joint rescue facility. "Animals have no voice and rely on humans for survival," Amanda said, "I plan to be a saving grace for them as one of them was mine."
The fellowship is named after the father and brother of donor Joyce Russo. "We are grateful for Amanda's dedication and that she able to work with us at Yorkie911 Rescue," Russo said.
"Amanda goes the extra mile and really cares about the dogs," said Heidi Walker of Yorkie911 Rescue, who added that despite the organization's name, the group rescues any type of small breed dog 15 pounds or under. "The work is hard, but important," Walker said, "Amanda does everything from cleaning up to feeding and socializing with the dogs and teaching them to be social with other dogs and people. I hope more students will take advantage of this remarkable fellowship."
"On behalf of the Board of Directors and staff off the Suffolk Community College Foundation, I am delighted to announce the award of the first Tony & Luke Russo Veterinary Science Technology Fellowship to Ms. Amanda Schneider of Farmingville and we wish her the very best for continued success as she navigates toward a degree in veterinary science technology," said Sylvia A. Diaz, PhD, LMSW, executive director of the foundation. "We are so very grateful to Joyce Russo and her family for their generous gift that provides thousands of dollars annually to eligible and promising veterinary science technology students who will gain valuable, hands-on, experiential learning while serving rescued pups at the Yorkie911 Rescue."