For Immediate Release
June 25, 2019
Suffolk Federal Awards $30,000 in Scholarships to Students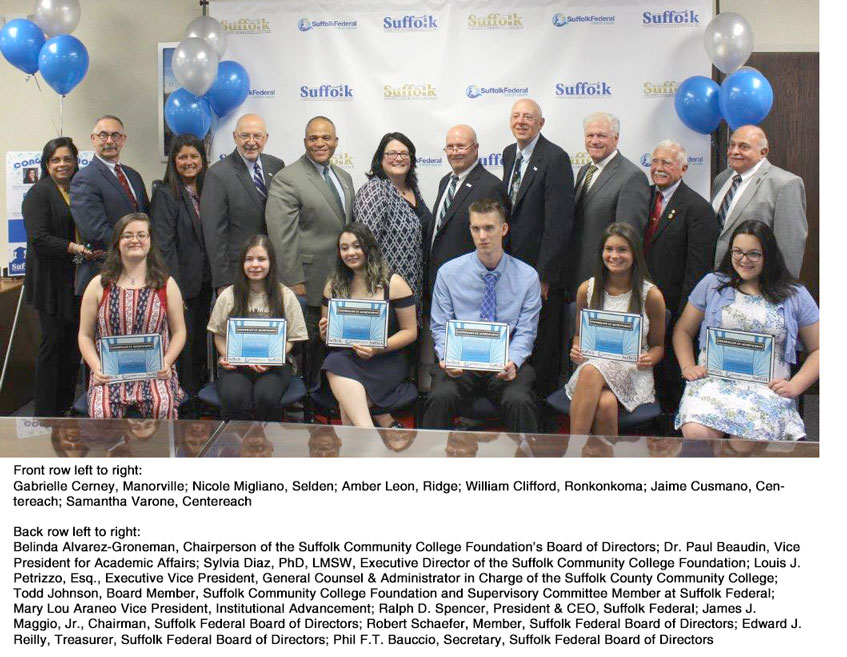 Suffolk Federal Scholars
Suffolk Federal recently awarded a total of $30,000 in college scholarships ($5,000 each) to six local high-school seniors who will be attending Suffolk County Community College.
"Supporting our younger generation to become productive community members by providing financial assistance as they undertake their college experience is an important focus for Suffolk Federal" explains Ralph D. Spencer Jr., President & CEO of Suffolk Federal. "We are happy to know that the scholarships awarded by Suffolk Federal will help to alleviate some of the student's financial burden, so they can focus on their future educational and career goals."
From the $30,000, four of the scholarship award recipients received $5,000 each as part of the Suffolk Federal Scholarship. In addition, one student, Amber Leon, received an additional $5,000 scholarship provided by the LT Michael P. Murphy Memorial Scholarship Foundation, which was matched by Suffolk Federal for a total of $10,000. Also, William Clifford received $5,000 as part of the Michael E. Reilly Foundation Memorial Scholarship for Excellence in Fire Science and Emergency Medical Technology which is awarded to a student enrolled in a Fire Protection Technology program at Suffolk County Community College.
Recipients were judged based upon their academic achievements, extracurricular and community activities as well as the quality of written essays.
The students who received scholarships are:
William Clifford (Ronkonkoma)
Amber Leon (Ridge)
Samantha Varone (Centereach)
Nicole Migliano (Selden)
Gabrielle Cerney (Manorville)
Jaime Cusmano (Centereach)
This year's scholarships are being provided as a result of a new partnership between Suffolk Federal and the Suffolk County Community College Foundation.
"The importance of giving to others can't be understated and that's because the secret to living is giving," said Belinda Alvarez-Groneman, chairperson, Suffolk Community College Foundation. "I am thrilled that Suffolk Federal and the Suffolk Community College Foundation have partnered to recognize and support some of the most promising young people in Suffolk County with these generous scholarships."
Added Sylvia A. Diaz, PhD, LMSW, executive director of the Suffolk Community College Foundation, "Today is a celebration of community excellence. Suffolk Federal shared incredibly generous scholarship opportunities for the students of Suffolk County Community College and awarding scholarships to promising students is one of our favorite things to do during the academic year. These students are actively involved in the life of their community and each has a record of volunteer service to their neighbors, extracurricular activity in their schools and academic excellence."
This year, academic scholarship opportunities totaled $35,000, an increase from the $20,000 which were awarded by Suffolk Federal last year.
"Suffolk Federal's funding of these scholarships demonstrates in a powerful way their commitment to the young men and woman of Suffolk County and to the societal benefits that flow from an educated and trained workforce. So, thank you Suffolk Federal," added Suffolk County Community College Executive Vice President Louis Petrizzo.