For Immediate Release
November 20, 2019
Suffolk Federal and College Celebrate Naming of Arena and Unveil New Sign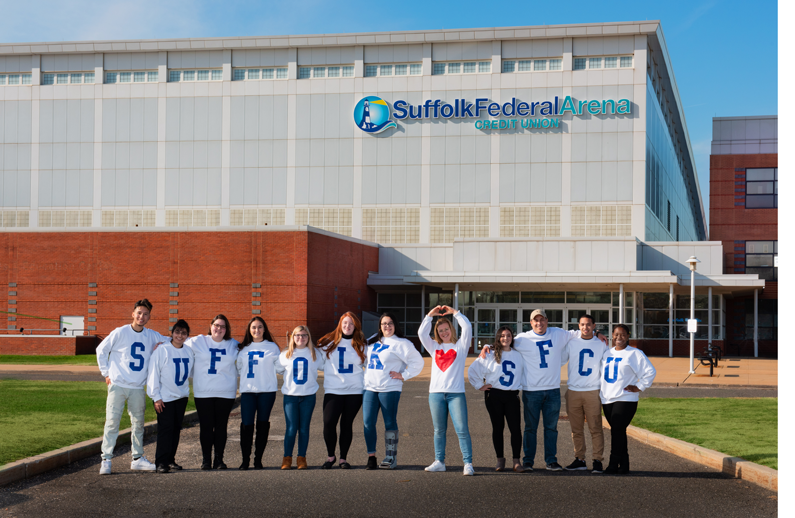 Students in front of the SCFU Arena
Suffolk County Community College's 60,000-square foot state-of-the-art athletics and education facility on the Michael J. Grant Campus in Brentwood is now officially the Suffolk Federal Credit Union Arena. Officials unveiled a new Suffolk Federal sign, 52 foot wide by 7 foot high, on the building's facade today. The arena hosts thousands of visitors annually.
"We could not be prouder of our partnership with Suffolk County Community College and the Suffolk Community College Foundation and look forward to continued success utilizing the endless possibilities we are able to create together for years to come," said Ralph D. Spencer, president and CEO of Suffolk Federal.
"At the heart of Suffolk Federal's generous support, is a long-term commitment to Suffolk County students. We could not have a more dedicated partner working beside us as we seek to provide enhanced access to an exceptional higher education experience within our shared region," said Louis Petrizzo, Suffolk County Community College interim president. "Our student body will now have expanded opportunities to succeed at Suffolk and prepare for their careers thanks to Suffolk Federal's multi-year commitment," added Petrizzo.
"We are indeed fortunate that Suffolk Federal chose to partner with us in order to support the future leaders of tomorrow. Thanks to the credit union's gift, the outlook for Suffolk's students continues to be both bright and promising," said Belinda Alvarez Groneman, Chairperson of the Suffolk Community College Foundation.
"This historic naming agreement marks the beginning of an active and exciting partnership among three leading Suffolk County institutions. We anticipate that this partnership will continue to grow, supporting student success for many years to come," said Sylvia A. Diaz, PhD, LMSW, executive director of the Suffolk Community College Foundation.
"Suffolk County Community College is the State University of New York's largest community college and Suffolk Federal is the largest independent credit union in Suffolk County. When two locally-focused forces join together for the collective good, you know great outcomes are sure to follow," said Mary Lou Araneo, college vice president for institutional advancement.
In addition to the arena's renaming, other changes include new signage inside and outside the arena, the display of the credit union's logo on the arena's court floor, the opportunity for Suffolk Federal to participate in tabling at area events as well as student job fairs and recognition on event materials including schedules, student and alumni publications and corporate brochures. Additional signs will also be placed at facilities on the Riverhead and Selden Campuses.
The partnership between Suffolk Federal and the college was announced last summer when Suffolk Federal presented six local graduating high school seniors attending Suffolk County Community College with $35,000 in scholarships.
Watch a time lapse video of the Suffolk Federal sign being erected: https://youtu.be/xRU1Jv8AmNM