For Immediate Release
May 8, 2023
10 Commit to Suffolk Sharks Basketball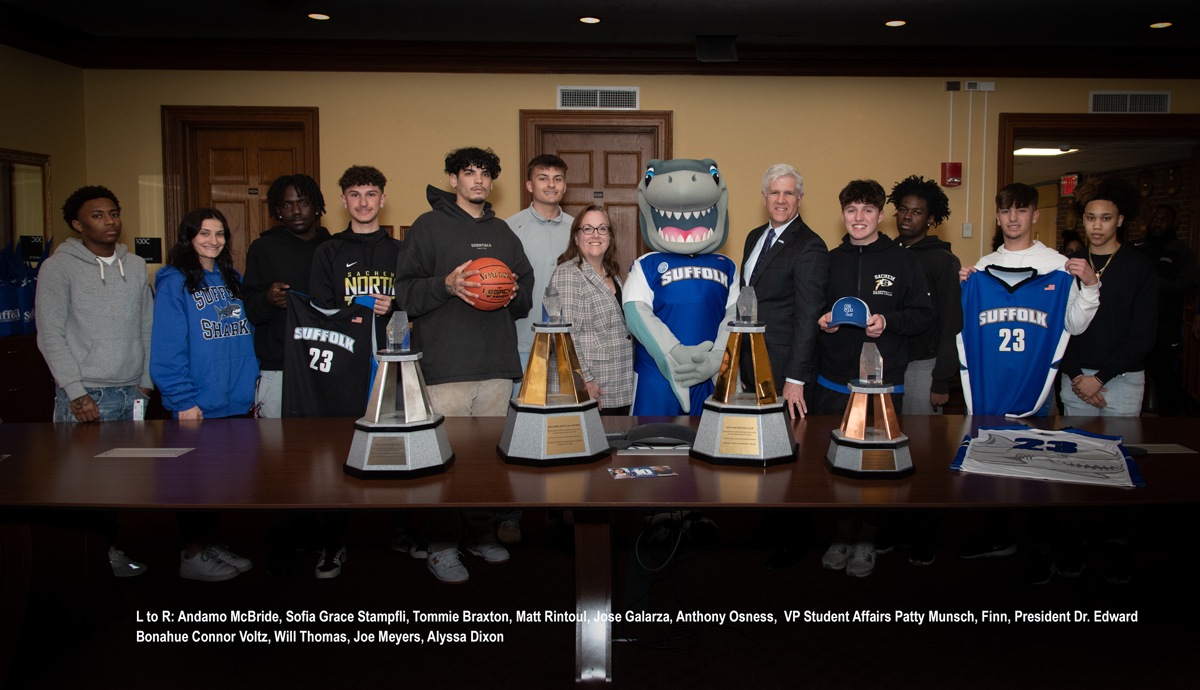 L to R: Andamo McBride, Sofia Grace Stampfli, Tommie Braxton, Matt Rintoul, Jose Galarza, Anthony Osness, VP Student Affairs Patty Munsch, Finn, President Dr. Edward Bonahue Connor Voltz, Will Thomas, Joe Meyers, Alyssa Dixon
They can now call themselves Sharks!

Ten student-athletes – eight men and two women - committed to Suffolk County Community College athletics at a signing ceremony attended by the new Sharks, their family, friends, and coaches. They were joined by college President Dr. Edward Bonahue and athletics officials and administrators. The College's mascot Finn also joined the celebration at the college's Brookhaven Gymnasium on the Ammerman Campus in Selden.

Suffolk County Community College President Dr. Edward Bonahue welcomed the new Sharks. "Teamwork, communication, hard-work, determination, goal-setting, resiliency… sports teaches all of this, and it all relates to life and your coming college experience," he told the new student athletes.
"Today you are making a commitment to Suffolk athletics, and we are making a commitment to you," said Suffolk County Community College Associate Dean of Athletics and Special Events Neftali Collazo, "and our approach is weighted heavily toward academics and graduation because that is ultimately what we are here for. We want student-athletes to leave Suffolk County Community College with a college degree." Collazo said.

Congratulations to:

Joseph Meyer
Island Trees HS
Anthony Osness
Shoreham Wading River HS
Connor Volz
Sachem North HS
Jose Galarza
Sachem North HS
Andamo McBride
Holy Trinity HS
Tommie Braxton
Longwood HS
Matthew Rintoul
Sachem North HS
Willie Thomas
Harry S. Truman HS
Alyssa Dixon
Central Islip HS
Sofia Grace Stampfli
Kings Park HS