For Immediate Release
November 4, 2022
Men's Soccer NJCAA Region XV Champions, Head to National Championship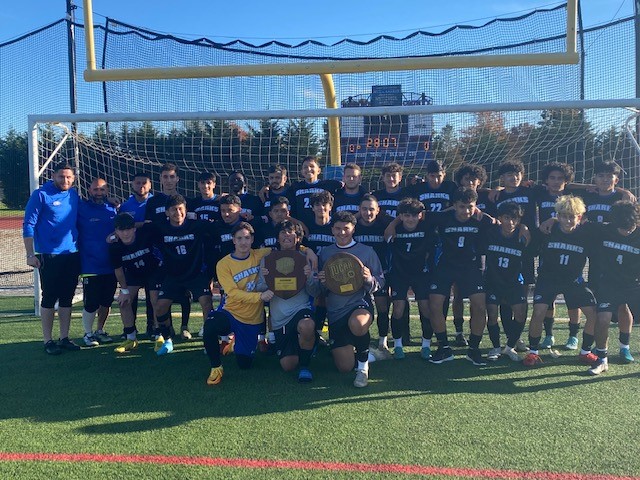 TOP ROW, L to R: Asst. Coach Marvin Chinchilla, Head Coach Keith Ginsberg Asst. Coach Guzman, Cristian Parra Alvarez, Ryan Rush, Enoch Osei Asibey, Kaanturk Akgul, Natahn Dowers, Erick Gruver, Juan Fuquen, Saul Salinas Huaman, Sam Jordan, Hever Reyes, Brandon Leal, Samuel Gonzaga MIDDLE ROW, L to R: Luke Augeri, Evire Jimenez Quintana, Osvin Garcia, Melvin Cajamarca, Marcello Mastrocco, Yunus Can , Emre Can , Jonathan Mejia, Angel Perez, Luis Duarte, Brian Duarte FRONT ROW, L to R: Rocco Dispinseri, Christopher Ascensio, Cesar Cruz
The 13-2-1 Suffolk Sharks Men's Soccer Team captured the NJCAA Region XV Championship topping Nassau Community College last weekend and are headed to the NJCAA DIII Men's Soccer National Championship.

Suffolk Shark Brandon Leal was named Region XV Player of the Year and Coach Keith Ginsberg, Region XV Coach of the Year.
The Suffolk Sharks are seeded fifth in the National Championship Tournament and will play fourth seed Camden County Community College on Wednesday, November 9.