For Immediate Release
July 24, 2023
Solar Technician: The Key to a Bright Future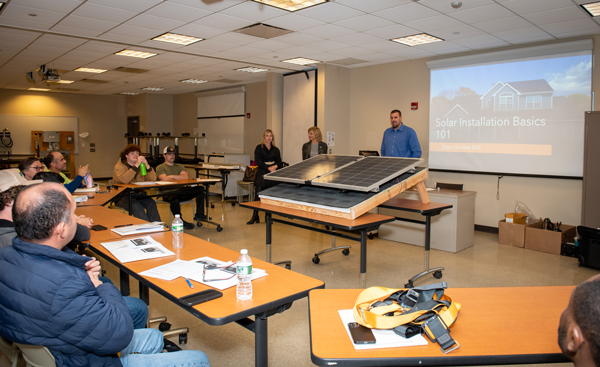 Students in Suffolk County Community College's Solar Tech program.
Deploying safe, reliable solar energy systems requires a skilled workforce that is trained to design and install these new systems.
Students in Suffolk County Community College's four-week Solar Technology Program garner classroom, hands-on, and in-the-field training to provide participants with the training and knowledge of grid connected and off-grid solar power systems, and home based installations.
Students are introduced to solar energy and taught to safely and effectively perform residential installation tasks – the same as a trained, entry-level worker does in the field.
Course topics include:
Fall prevention safety
Basic measuring using US Customary Units
Hand-held power tools
Basic construction
Overview of PV systems
Intro to PV racking systems
Basic electrical safety
Basic electrical theory
When training concludes, students earn an industry recognized Suffolk County Community College Certificate of Completion as well as an OSHA 10 Certificate and an OSHA Fall Prevention Safety Certificate.
Program Summary
4-week program
Tuesday & Thursday evenings, 5 pm - 8:00 pm on the Michael J. Grant Campus, Brentwood.
Program fee - $850 – Grant Funding Available to Cover Full Tuition
50-hour course with a paid externship with a local solar company
Learn from industry experts
Hands-on training in residential solar

For more information or to enroll, contact Melanie Carsch, 631-851-6414
E-mail: morrism@sunysuffolk.edu