For Immediate Release
July 22, 2022
$400K Grant Brings Free Career Training to Suffolk County Community College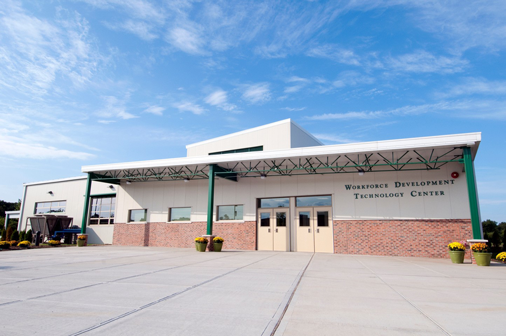 Workforce Development Technology Center on the Michael J. Grant Campus
Adults with a high school diploma and some or no post-secondary education will soon be able to get free career training at Suffolk County Community College thanks to a $408,157 grant from the State University of New York's (SUNY) Stay Near Go Far initiative. The grant is a subaward of SUNY's Education Stabilization Fund — Reimagine Workforce Preparation Grant from the U.S. Department of Education's Office of Career, Technical, and Adult Education.
The program includes fully online and hybrid (mixed online and in-person) instruction in support of regional employers for electronic assemblers, health information associates and ophthalmic technician assistants. Tuition and certification fees are paid for by the grant and instructional materials, career counseling, job placement assistance, and referrals to childcare, transportation, and other covered resources will also be provided.
"Suffolk County Community College has always and will continue to help build a workforce pipeline that meets the needs of our local employers to fill high-demand, living wage jobs," said Suffolk County Community College President Dr. Edward Bonahue.
Suffolk's training programs were developed with input from industry partners and associations with whom the college maintains relationships, including SightMD and Northwell Health who will provide externship opportunities for students in the Health Information & Management Systems Associate and Ophthalmic Technician Assistant programs and will consider program graduates for employment opportunities. GE Aviation and BAE Systems have expressed a critical need for and interest in interviewing qualified students who complete the Electronic Assembler program.
The program will provide participants with the specialized industry credentials valued by
employers and a pathway for career advancement, including career coaching services to help participants successfully complete training and find permanent positions. A dedicated career coach will assist participants in searching for jobs, writing resumes and cover letters, interviewing skills, and dressing for success.
For more information:


Electronic assembly training

(hybrid delivery at Grant Campus):
Email: advmfg@sunysuffolk.edu or call (631) 851-6200.


Health information and management systems associates

training (fully online delivery)
Email: dunkira@sunysuffolk.edu or call 631-451-4552



Ophthalmic technician assistants

(hybrid delivery at Sayville Campus):
Email: dunkira@sunysuffolk.edu or call 631-451-4552
The SUNY Reimagine Workforce Preparation Training Program is fully funded by the United States Department of Education as part of an award totaling $18,067,845.02, with 0 percent financed from state and/or non-governmental sources.