For Immediate Release
June 1, 2023
Suffolk Opens State-of-The-Art STEM Building, Unveiling of The National Grid Center for Workforce and Energy Innovation.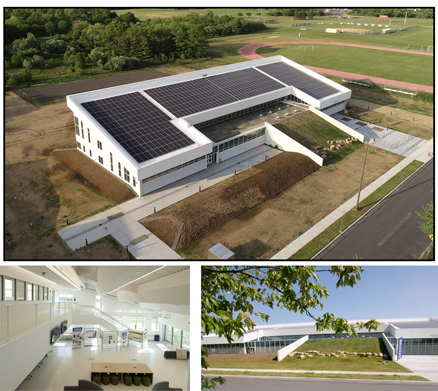 Suffolk County Community College's New STEM Building
Suffolk County Community College's new, 26,000 square foot, two-story, state-of-the-art Science, Technology, Engineering and Math (STEM) building -- The Renewable Energy STEM center -- opened today with a celebratory ribbon cutting featuring area high school students, elected officials, business leaders, scientific and robotics presentations, and the unveiling of The National Grid Center for Workforce and Energy Innovation. The building sits on the Michael J. Grant Campus in Brentwood. The high school students from Central Islip, Brentwood and Bay Shore participated in STEM related activities as well as informative panels about STEM careers.
"This beautiful new building will help Suffolk County Community College prepare a new generation of graduates for the demands of the STEM economy," College President Dr. Edward Bonahue, said. "We are grateful for the generosity of our County and State sponsors and National Grid for their significant support of our mission to prepare students for service in our regional energy workforce. National Grid's Project C program supports our mission and vision for Suffolk's workforce future."


Suffolk County Community College Board of Trustees Chair E. Christopher Murray said, "The new STEM building is a symbol of our commitment to excellence in STEM education. We are excited to see what our students will accomplish in this state-of-the-art facility."


"As I leave the college's Board of Trustees following 12 years of past service, I am delighted that one of my last acts is participating in today's ribbon cutting, an event that looks to a sustainable future for the students of Suffolk County Community College and, indeed, a sustainable future for all of Long Island's citizens," said Suffolk County Community College Board of Trustees Vice Chair Jim Morgo.
"This new state of the art building is a win-win for county residents looking to further their education in the STEM field at Suffolk County Community College," said Suffolk County Executive Steve Bellone. "I would like to extend my thanks to College President Dr. Edward Bonahue for always doing what's best for his students and to National Grid and New York State for partnering with us on this initiative. It is always a pleasure to put forth a collaborative effort in providing clean and energy efficient facilities that benefit our residents."
"I am excited to join with SCCC in celebrating the opening of the new, net-zero energy, STEM building, funded by New York State and Suffolk County. This state-of-the-art facility will provide students with cutting-edge resources to excel in science, technology, engineering, and math. It showcases renewable energy and offers training in renewable energy systems, while accommodating over 1,600 students in various STEM disciplines. It represents our commitment to innovation, workforce development, and a sustainable future," said Assemblyman Fred Thiele who was instrumental in garnering state funding for the building with now retired New York State Senator Kenneth LaValle.
"I am proud to have helped secure the state funding for this building, which will provide Suffolk County Community College students with the resources they need to succeed in the 21st century economy," former New York State Senator and Chair of the State Senate Select Committee on Higher Education Kenneth P. LaValle said. "This building will help prepare students for the jobs of tomorrow, and it will ensure that Suffolk County remains a leader in innovation and economic development."

"It is essential as leaders in the public and private sector, that we work together to create educational and workforce opportunities that keep our highly educated students on Long Island. We look forward to having this incredible STEM center here in Brentwood in the Town of Islip, home to one of Suffolk County Community College's premier campuses," said Islip Town Supervisor Angie Carpenter.
The $21.3 million building -- funded by New York State and Suffolk County -- provides students with a new facility to learn chemistry, physics, engineering, math and other workforce initiatives, provides a showcase for the merits of renewable energy, and a facility where the installation, repair and maintenance of renewable energy systems can be taught as well as house laboratories and classrooms. The building will also be used for renewable energy training and other STEM related courses and certificate programs.

"National Grid is proud to partner with Suffolk Community College on this beautiful building and we are honored it has our name on it," said Melanie Littlejohn, Vice President for New York Customer and Community Management at National Grid. We are committed to higher education and creating the clean energy workforce of the future. We are excited to announce the 'National Grid Scholarship for Excellence in Renewable Energy Workforce Development,' and we believe this will propel students to help develop a clean, sustainable, and equitable energy future."
The National Grid Center for Workforce and Energy Education is supported by a generous $250,000 gift from National Grid that includes a National Grid Workforce and Energy Innovation Endowed Scholarship, part of a series of donations from National Grid including a campus beautification mural near the new STEM building, and solar trees – solar powered recharging stations with tables and seating -- on the college's Ammerman and Grant campuses. Solar Trees provide students and faculty with opportunities to better understand energy innovation on our campuses and throughout our community, said Dr. Sylvia A. Diaz, executive director of the Suffolk Community College Foundation.
The net zero energy building – the energy required to illuminate, heat, cool and ventilate the building will be equal to or less than the energy produced from renewable sources – will potentially be home to more than 1,600 STEM students taking courses in subjects including Biology; Computer Science: Information Technology; Cybersecurity; Environmental Science; Heating, Ventilation, Air Conditioning/Refrigeration and Marine Biology among others.
The completely electric building's high-tech green roof has a 468 solar panel array that can generate 208 kW of power and will generate as much power as it consumes over the course of a year -- pulling power from the grid on high-energy consumption days and feeding power back to the grid on others. The building's geothermal exchange system will reduce the energy needed to both heat and cool the building.
The building has new classrooms, meeting rooms and lab study space and includes:
– The National Grid Center for Workforce and Energy Education
– an open symposium center with seating for 300 and computer and network accessibility.
– Biology lab and support lab
– Cybersecurity Lab
– Multi-use lab for solar technology and other programs
– Computer Lab
– Two Multi-use Classroom/Labs
– Conference Room