For Immediate Release
June 25, 2019
Gonatas Named Track & Field Athlete of Year and French, Coach of the Year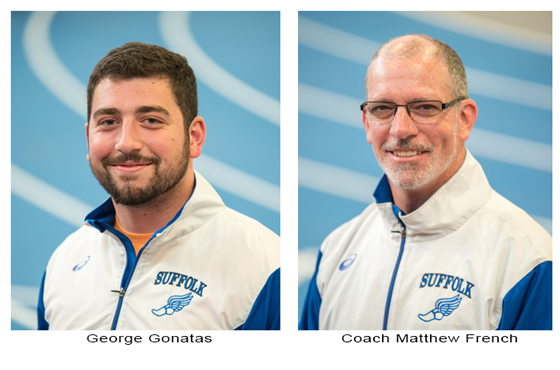 The U.S. Track & Field and Cross Country Coaches Association has awarded Suffolk County Community College's George Gonatas from Fort Salonga the NJCAA Division III 2018 Outdoor Track and Field Men's Field Athlete of the Year Award for the Northeast Region.

Gonatas is ranked first nationally in the shot put and second nationally in both the discus and hammer. His mark of 13.70m (44'-11½") in the shot put leaves him on top of the Descending Order List by more than one foot.
And that's not all!
Matthew French, in his seventh year as Suffolk's Track Coach has been named Northeast Coach of the Year by the USTFCCCA. Coach French has had athletes hit 30 qualifying marks for the NJCAA Division III Outdoor Track & Field Championships this year and his team has sat in first place in the Northeast Region throughout the entire season.