For Immediate Release
December 11, 2019
Legislative Committee Hears How Suffolk County Community College Serves Veterans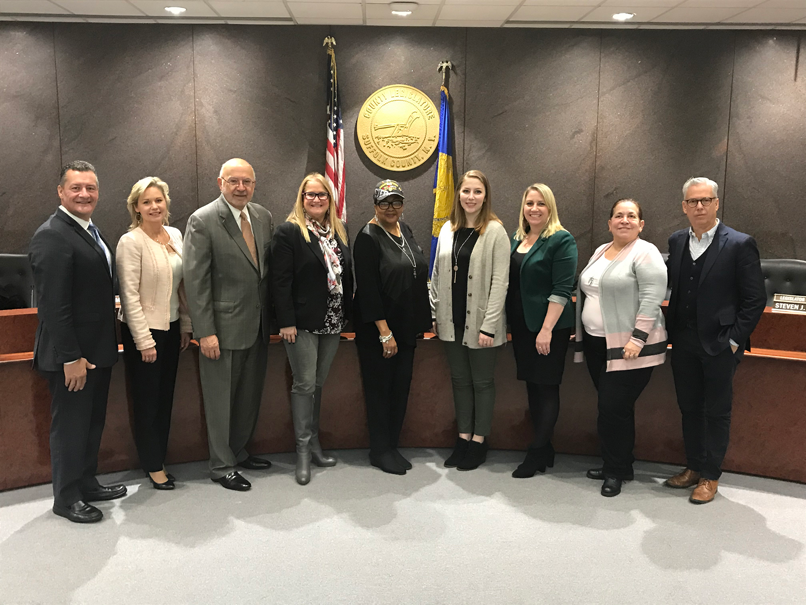 L to R: Suffolk Legislators Samuel Gonzalez and Sarah Anker; Interim College President Louis Petrizzo, Legislator Susan Berland, Chair of the Veterans Committee; Denise M. Williams; Suffolk County Community College graduate and 106th Air Rescue Wing Airman Kate Patton; College Director of Veterans Affairs Shannon O'Neill; Legislators Leslie Kennedy and Steve Flotterton.

Suffolk County Community College's Director of Veterans Affairs told the Suffolk County Legislature's Veterans Committee about the myriad ways the college assists veterans with academic and post military service at the committee's regular meeting on Tuesday December 10.
College Director of Veteran's Affairs Shannon O'Neill, third from right, was joined by Interim Suffolk County Community College President Louis Petrizzo, third from left, and Suffolk County Community College graduate and Airman at the 106th Air Rescue Wing Kathryn Patton, fourth from right.
O'Neill told the committee's chair, Suffolk County Legislator Susan Berland, fourth from left, about the college's long history of providing programs for service members.
"We now have a Veterans Resource Center on each of our three campuses with staff that are experts in understanding Veterans and Active Military benefits," O'Neill told the legislators. "In addition the college also has dedicated a formal Veterans Plaza on each of the three campuses."
O'Neill shared a few facts about the college's commitment to veterans with the committee:
Suffolk was designated as a Vet Success on Campus program in 2018 – one of 104 in the country and one of two in New York State.


Suffolk's enrolled military students for 2018-2019 was 751. Suffolk County is home to the most veterans in New York State.


The college teaches courses at the 106th Air Rescue Wing since spring 2018 – offering a total of 11 courses to date.


Seventy-nine 106th Air Rescue Wing members have earned a CCAF degree since the inception of the program with Suffolk and are now eligible for promotion.


Suffolk County Community College named Best for Vets for 2020 - Ranked 22 at the Associate Level across the nation.


Student centered programming throughout the semester to assist in the transition from military to civilian life such as Warrior Wednesdays, Warrior Ranch Foundation, Witness to Liberation, 22 push up events, Veterans Generations panels, a formal veterans day ceremony on each campus – challenge coin presented to all those that served, Life of a Service Member, enrollment events for prospective students, transfer fairs and a production of a veteran centric play in our theater department, Learning to Stay.


Freshman seminar for Veterans and separate Veterans Orientation program.


Graduation and SALUTE ceremony to honor out honor society inductees and to present the red, white and blue graduation cords. SALUTE stands for Service, Academics, Leadership, Unity, Tribute and Excellence.