For Immediate Release
June 25, 2019
Honoring Veterans: Plaza at Michael J. Grant Campus Dedicated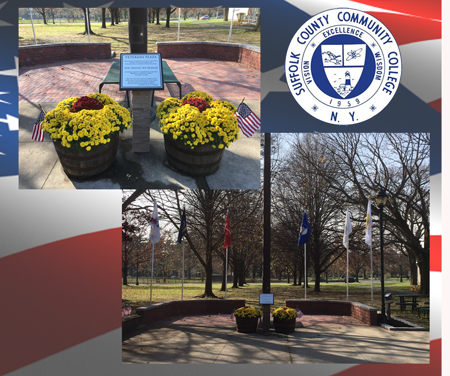 Veterans Plaza at the Michael J Grant Campus in Brentwood.
Suffolk County Community College President Dr. Shaun McKay, joined by Campus Executive Dean James Keane and College Director of Veterans Affairs Shannon O'Neill, student veterans, veterans, students, faculty and staff will dedicate a portion of the college's Michael J. Grant Campus as a Veterans Plaza in memory of all who served and as a tribute to veterans past and present. The plaza dedication keynote speech will be delivered by CMSgt. Michael Hewson the Command Chief of the 106th Rescue Wing, Francis S. Gabreski ANGB, Westhampton Beach.
The ceremony, plaza dedication and plaque unveiling will take place rain or shine at Suffolk County Community College's Michael J. Grant Campus, Brentwood, NY on Wednesday, November 14, 2018 at 11 a.m., outside Caumsett Hall.
"Suffolk County Community College has a long history of assisting veterans not only in maximizing their benefits, but also in supporting a successful transition to college life and achieving their educational and personal goals," President McKay said and added that the addition of the Grant Campus Veterans Plaza completes veteran tributes on all three of the college's campuses. McKay said the college also began offering courses at Francis S. Gabreski Air National Guard base, home of the 106th Rescue Wing, in Westhampton Beach last spring. A first for the 106th Rescue Wing and the college.
Suffolk County is home to the most veterans in New York State, more than 75,000. Suffolk County Community College has more than 700 military-connected veterans enrolled.