For Immediate Release
August 2, 2022
Suffolk Women Take National XC Title, Alexandra Smith is Individual National Champ and National XC Athlete of Year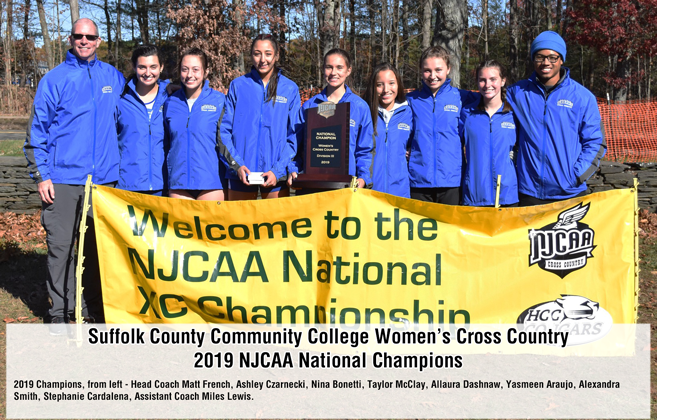 National Champions 2019 Women's Cross Country Head Coach Matt French, Ashley Czarnecki, Nina Bonetti, Taylor McClay, Allaura Dashnaw, Yasmeen Araujo, Alexandra Smith, Stephanie Cardalena, Assistant Coach Miles Lewis.
Suffolk County Community College Women's Cross Country team won its third national title led by Shoreham's Alexandra Smith who claimed the individual title in 18:34.03. Smith logged the third fastest time by a female individual champion in meet history and was named National Women's Cross Country Athlete of the year (USTFCCCA NJCAA Division III), Suffolk's first-ever in women's cross country.
The Sharks ended up with 27 points, the second fewest scored by a winning team since 2010, which was also 64 points less than the runner-up.
Head Coach Matt French took home top coaching honors as 2019 National Women's XC Coach of the Year (USTFCCCA NJCAA Division III).