For Immediate Release
January 21, 2020
Priscilla Zarate Sworn as Newest Suffolk County Community College Trustee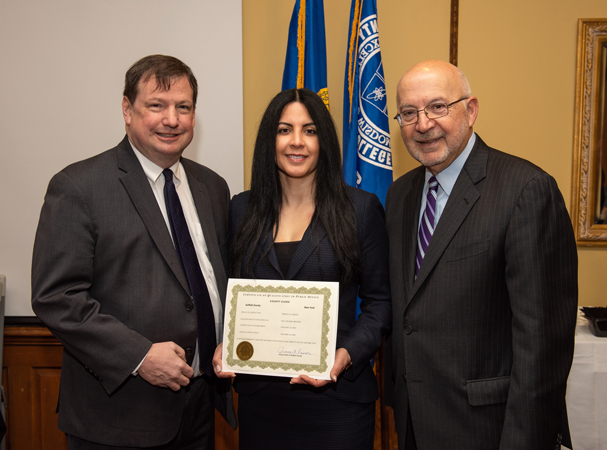 Priscilla Zarate has officially joined the Suffolk County Community College Board of Trustees and is welcomed by, at left, Board Chair E. Christopher Murray, and Interim College President Louis Petrizzo, at right.
Zarate who was sworn in at the board's first 2020 meeting on January 16.
Zarate serves as the ENL and World Languages Coordinator for the Islip School District and previously served as executive director of the New York City Department of Education's Division of English Language Learners and Student Support. She has been an assistant coordinator for bilingual and ENL programs at the Brentwood School District. She has also served as a bilingual language programs coordinator for the Long Beach School District and for the Christa McAuliffe School in Jackson Heights, Queens.
"Trustee Zarate comes to us with an impressive background in bilingual education at a time when a growing body of research makes clear that students who are bilingual have advantages in literacy development as well as the development of problem-solving and other skills. We look forward to working with her on initiatives that will supplement services to all of our students," said Interim Suffolk County Community College President Louis Petrizzo.
"I look forward to working with the Board of Trustees and President Petrizzo in enhancing and further strengthening Suffolk County Community College's long-standing tradition of providing a rigorous education for all students that prepares them to be successful citizens in a global economy," said Trustee Zarate.
Zarate earned her bachelor's degree in Spanish literature and elementary education at Hunter College of the City of New York, her master's degree in bilingual education at Bank Street College, and her school district administrator and school building administrator degrees from the College of Saint Rose.
Zarate, who resides in Deer Park with her husband and son, was appointed to the board by the Suffolk County Legislature to fill out the term of former member Denise Lindsay Sullivan. Zarate's term expires on June 30, 2021.