The History of Suffolk County Community College
On December 18, 1959, Suffolk County Community College of the State University of New York was founded under the administration of a nine-member board of trustees, five appointed by the then County Board of Supervisors and four by the Governor of the State of New York.
On October 3, 1960, the college officially opened, occupying temporary facilities at Sachem Junior-Senior High School in Ronkonkoma, New York, as well as part-time facilities at Riverhead High School in Riverhead. Initial enrollment included 171 full-time students and 335 part-time students.
As the college began to grow, the Board of Supervisors of Suffolk County provided a 130-acre site in Selden for a permanent campus. Six buildings on the site were renovated and converted, equipment necessary for the operation of the college was obtained, and in August 1961 the college occupied what was later to be known as the Ammerman Campus, renamed in honor of the college's founding president, Dr. Albert M. Ammerman.
The second year of operation opened with over 1,400 full- and part-time students. In June 1962, the College held its first commencement exercises, at which 42 graduates received associate degrees. Two other permanent campuses were opened – the Michael J. Grant Campus in Brentwood in 1974 and the Eastern Campus in Riverhead in 1977.


One College, Three Campuses
Ammerman Campus (Selden, NY)
Today, the Ammerman Campus encompasses 156 acres and has 17 academic, administrative and auxiliary buildings. In 2015, the College opened the 62,700-square-foot William J. Lindsay Life Sciences Building, which contains science classrooms, laboratories and prep rooms as well as lecture halls and meeting spaces.
Michael J. Grant Campus (Brentwood, NY)
The Michael J. Grant Campus occupies a site of 207 acres with 15 academic, administrative and auxiliary buildings, including an 110,000-square-foot building which houses classrooms, laboratories, and a theatre. A 277,000-square-foot complex, which houses the Suffolk County Police Academy, a pool, field house, fitness center and health technology wing, opened in 2000.
Located on the Michael J. Grant Campus, the Sally Ann Slacke Corporate Training Center continues to provide a wide array of customized workforce and professional development training for the region's business sector, not-for-profit organizations and public agencies.
In September 2009, the college opened the Workforce Development and Technology Center. This 18,000-square-foot building is LEED Gold Certified by the U.S. Green Building Council and includes state-of-the-art laboratories, classrooms and office space.
As part of our partnership with Long Island University, a new modular building was completed in 2016 on the Michael J. Grant Campus.
In 2017, the college completed construction on a 74,200-square-foot Learning Resource Center, which includes traditional library functions as well as a 100-seat lecture hall, the Academic Tutoring Center, the Writing Studio, meeting space and a Teaching Learning Center.
The college has recently completed construction of a new Renewable Energy/STEM Center on this campus. This facility is the cornerstone of new academic initiatives (both credit and non-credit) being developed in Energy Management, Alternative Energy Technologies, Sustainability Studies as well as Cybersecurity and other STEM disciplines.
Eastern Campus (Riverhead, NY)
The Eastern Campus, located on a 192-acre site in the Pine Barrens of eastern Long Island, comprises six academic buildings and three auxiliary buildings. Also affiliated with the Eastern Campus is the Culinary Arts and Hospitality Center located on Main Street in downtown Riverhead, just three miles north of the main campus.
The Easrern Campus is home to the Montaukett Learning Resource Center. This facility includes a state-of-the-art library, a large lecture hall, computer classrooms, a multi-media room, the Academic Support Center, gallery space and varied learning spaces for students to pursue collaborative and independent study.
In September 2019, the college opened the Health and Wellness Center, a 40,214-square-foot building which contains a large lap pool, a gymnasium, strength training area and classrooms for instruction and meetings.
A Leader in Education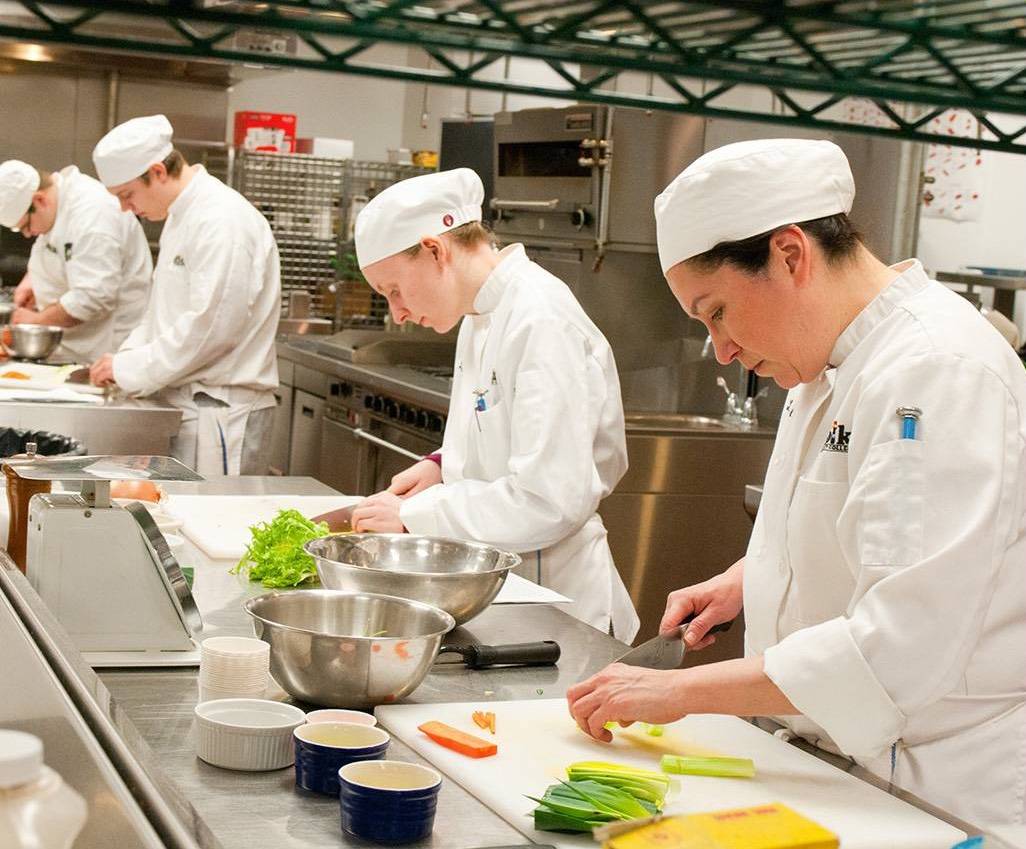 In January 2008, the Culinary Arts and Hospitality Center opened in downtown Riverhead. The Center offers two-year A.A.S. degrees in Culinary Arts, Baking and Pastry Arts, and Hotel and Resort Management, as well as certificates, a variety of general education, and continuing education courses. The Center includes classrooms, hands-on training labs, a 60-seat demonstration theatre, a retail bakery and café. In addition, spaces are available for rent for meetings and events.
Suffolk County Community College is the largest community college in the State University of New York (SUNY) system, enrolling approximately 21,000 students. It offers approximately 100 degree, workforce training, and certificate options in business and paralegal studies; communications and the arts; computer science, engineering and technology; culinary arts and hospitality management; education; health, community and human services; liberal arts and sciences. The original full-time faculty of fewer than a dozen has grown to more than 415. By May 2022, the college had over 140,000 alumni.
Each year, Suffolk County Community College prepares students to enter the workforce upon graduation in such marketable areas as medical records, physical therapist assistant, paralegal, nursing, culinary arts and many other fields. Other students transfer to four-year colleges and universities to complete their baccalaureate degree. Suffolk graduates have gone on to study at institutions such as Columbia, Harvard, Cornell, New York University and the University of North Carolina at Chapel Hill, as well as institutions within the State University of New York.