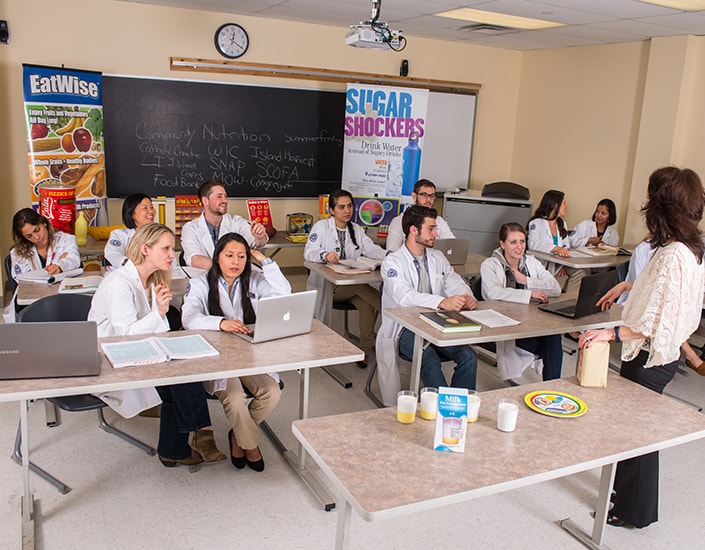 The Dietetic Technician Program (DTP) at Suffolk County Community College is the only program on Long Island accredited by the Accreditation Council for Education in Nutrition and Dietetics (ACEND) of the Academy of Nutrition and Dietetics (The Academy). It is designed for students with a distinct interest in the fields of nutrition and food service management.
The program consists of a combination of science, nutrition and management courses. Students entering the program receive 450 hours of intense supervised field work in a variety of employment settings. Upon completion of the program, students are awarded an Associate in Applied Science Degree (A.A.S.) in Dietetic Technology and are eligible to take a national registration exam. Students passing the exam earn the professional credentials of NDTR (Nutrition and Dietetic Technician, Registered).
This rigorous curriculum prepares students to enter the workforce, or continue their education to become Registered Dietitians. Transfer opportunities exists with Long Island University, Queens College and other universities for those students interested in continuing on to a four-year dietetic program.
For those entering the workforce, Nutrition and Dietetic Technicians, Registered (NDTRs) work independently or as team members under the supervision of Registered Dietitians. They can be found in a variety of employment settings that include hospitals, nursing homes, home healthcare agencies, retirement centers, weight management clinics, wellness centers, public health agencies and restaurants. Many also find work in the areas of corporate food service and food service management.
Students entering the curriculum can enroll on a part-time or full-time basis. They are required to complete nutrition courses in sequence as outlined. Students are also required to take supporting coursework in the social and physical sciences, English, mathematics, physical education and business.
Admission to the program is consistent with that for the College Requirements and an application can be obtained from the Admissions Department.
More questions? Contact Jodi Levine, MS, RD, CDN, Dietetic Technician Program Director, 631-548-3724, levinej@sunysuffolk.edu.
Eastern
HEGIS Code -

5404

, CIP Code -

51.3104
Program Learning Outcomes
Curriculum Code:

DIET-AAS
The program of study prepares individuals wishing to work as support personnel for dietitians in both clinical and administrative settings. Courses in the physical and social sciences supplement the specialized Dietetic Technician courses. Field experience assignments require that students travel to a wide variety of hospitals and community agencies throughout Suffolk County. All students enrolled in the Dietetic Technician program, both full and part-time, must meet college health requirements as well as the requirements for food service workers employed in health care facilities. Students are required to take the DTE courses in sequence and must earn a grade of C or better in each DTE course. A minimum grade of C must be earned for BIO105 and CHE100. Those who intend to transfer to a four-year college should seek advisement from the program director. Both full- and part-time students, are required to purchase accident insurance and professional liability insurance under the College's policy. DTE101 is open to all students and can be taken as an unrestricted elective. Enrollment in all other DTE courses is limited to students officially admitted to the program.
This Dietetic Technician Program is currently granted continuing accreditation by the Accreditation Council for Education in Nutrition and Dietetics (ACEND), 120 South Riverside Plaza, Suite 2190, Chicago, IL 60606-6995, 312/899-0040 ext. 5400; https://www.eatrightpro.org/acend.
FIRST SEMESTER: 16 credits
Credits
*
BIO105: Survey of the Human Body
4
COL101: College Seminar
1
♦
DTE101: Introduction to Nutrition
4
♦
DTE103: Nutrition Education for Dietetic Practitioners
3
ENG101: Standard Freshman Composition
3
Physical Education
1
SECOND SEMESTER: 18-19 credits
Credits
**
CHE100: General Chemistry
4
♦
DTE121: Introduction to Clinical Nutrition
[6 Clinical Hours per week]
5
♦
DTE122: Nutrition through the Life Cycle
3
English Elective
3
MAT103: Statistics I
or MAT111: Algebra II or higher
3-4
THIRD SEMESTER: 14 credits
Credits
♦
DTE201: Introduction to Food Service
3
♦
DTE204: Advanced Nutrition in the Community Setting
1
♦
DTE205: Advanced Nutrition in the Clinical Setting
6
PSY101: Introduction to Psychology
3
Physical Education
1
FOURTH SEMESTER: 15 credits
Credits
♦
DTE203: Dietetics Seminar
1
♦
DTE211: Food Service Management
3
♦
DTE213: Food Service Management Field Experience
5
Humanities Elective
3
SOC101: Introduction to Sociology
3
| | |
| --- | --- |
| MINIMUM CREDITS REQUIRED | 63 |
| | |
| --- | --- |
| * | BIO105 must be taken and completed with a C or higher prior to enrolling in DTE121. |
| ** | CHE100 must be taken and completed with a C or higher prior to enrolling in DTE205. |
| ♦ | These courses constitute the major courses in this curriculum. |
| | NOTE: While students will not be prohibited from pursuing the program, students who have previously been convicted of a felony are advised that their prior criminal conviction may impede their ability to complete requirements of the program. Students who have concerns about such matters are advised to contact the program coordinator or academic chair. Please refer to the following procedure for additional information. |
Program Learning Outcomes provide you with an overview of the skills and knowledge you will attain after graduating from the Suffolk County Community College degree or certificate programs.
Contact Us
Dietetic Technician
Program Director
Jodi Levine, MS, RD, CDN
Culinary Arts
and Hospitality Center
20 East Main Street
Riverhead, NY 11901
(631) 548-3724
levinej@sunysuffolk.edu
Central Admissions
Phone: (631) 451-4414
Fax: (631) 451-4415
admissions@sunysuffolk.edu
Office Hours
Monday - Friday
9:00 a.m. - 5:00 p.m.
Course Description
div id="lightbox display - no content updated