Theatres
Shea Theatre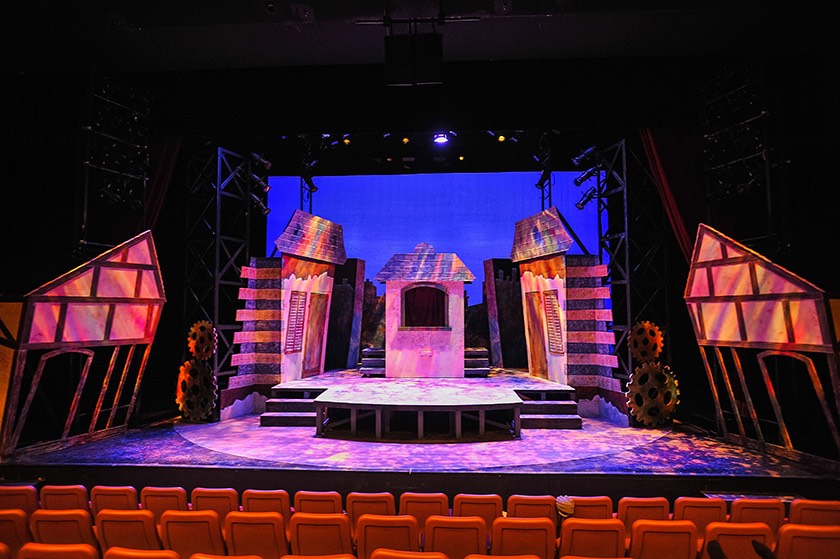 Renovations were recently completed on the Shea theatre. There is a large, open lobby that will very comfortably accommodate a capacity audience. The house seats 427 in comfortable, high back seats in a stadium, continental arrangement. Sight lines for all seats are exceptionally good. Acoustics in the house are generally very good.

The stage is an 80-foot open platform. Part of the renovation was installation of a new counterweight stage rigging system. Three levels of newly constructed dressing room have easy access to the stage.

The lighting and sound are modern computer controlled systems.
Theatre Shops and Storage
Scene Shop
The scene shop is completely equipped with woodworking tools plus three different types of welding equipment.
Costume Shop
The costume shop is fully equipped with an industrial dye vat and all manner of stitching equipment.
Wardrobe Storage
The Festival has access to an extensive wardrobe collection amassed by the College's Theatre Training Program through thirty years of productions.
Included are clothes from Shakespeare and other period shows designed by such notable designers as Caley Summers, Charles Blackburn, Paul Reinhardt, Edward Haynes, Bob Locke and Peter Horne.
Contact Us
Theatre Arts Program
Charles Wittreich
Academic Chair
Ammerman Campus
Islip Arts Building Rm. 121
533 College Road
Selden, NY 11784
Phone: (631) 451-4163
Fax: (631) 451-4601
Central Admissions
Phone: (631) 451-4414
Fax: (631) 451-4415
admissions@sunysuffolk.edu

Office Hours
Monday - Friday
9:00 a.m. - 5:00 p.m.
Course Description
div id="lightbox display - no content updated