Suffolk County Community College Meal Plan Frequently Asked Questions
Why is there a $100 charge on my bill labeled "meal plan"?
The College automatically implements a mandatory $100 meal plan charge per semester for all students taking nine or more on-campus credits on the Ammerman or Michael J. Grant campuses. Eligible credits consist of those taken Monday through Friday, during the day. Fully online, off-campus clinicals, other off-campus credit-bearing courses, weekend, and courses that start at 6:00 pm or later do not count toward the nine+ credit total. The meal plan charge is credited to the student's account, providing them with access to $100 of spending power for food and beverages.
---
Why am I required to have a $100 meal plan?
Suffolk is committed to providing affordable and convenient food options on its campuses. Access to healthy food choices is an essential foundation of the educational process. The meal plan helps support the dining services program and allows the College to offer students multiple quick convenience options; kosher, vegetarian, vegan, and halal choices; and a fully operational grill station on the Ammerman and Michael J. Grant campuses. We will continue to evaluate service expectations and dining spaces to ensure continued safe dining convenience for students. Outdoor furniture is also provided on our campuses to further enhance the dining experience.
---
What is the benefit of having a meal plan?
A meal plan is the best way to eat on campus.
Top 5 Reasons to Have a Meal Plan
Convenience: You are never far away from a great meal. Dining locations are time-saving stops in between classes. Plus, students don't have to give up their parking spot.
Easy: Since dining funds are accessed through student ID cards, there's no need to worry about going to an ATM or using a credit card.
Quality and freshness: don't worry about packing a lunch or storing it in your hot car. The dining locations have food that is always fresh and safe.
Gas is expensive: save your gas money for something else—don't waste it to get food off campus.
Savings: By making purchases using meal plan funds, students avoid paying sales tax, as opposed to purchases made with cash, debit or credit cards.
---
How does the meal plan work?
Students are able to access their $100 meal plan credit by swiping their student ID card at any campus dining location on the Ammerman and Michael J. Grant campuses, and when accessing the food/beverage vending machines located on any SUNY Suffolk campus, including the Eastern Campus. The student ID card functions just like a debit card. As students make purchases, the total cost is automatically deducted from the balance remaining in the meal plan account, until funds run out.
---
Who can use my meal plan?
The meal plan is intended for the meal plan member's use only. Dining area cashiers will check each student ID card before swiping at the register, to ensure that the person making the purchase is the individual who holds the meal plan. This is designed to prevent theft that may result from use of a lost or stolen card. Transactions will only be completed if the picture on the student ID card matches the person making the purchase. Once a purchase is made, students are free to share their meal with whomever they wish.
---
When will my meal plan be available?
The College meal plan is structured to be active on the first day of the semester following a student's registration (fall and spring), and, as long as the student remains enrolled, will be active through the academic year until the last day of each semester. The meal plan will not be available during winter or summer sessions.
---
What kinds of dining options will be available?
Dining options include a variety of fresh foods, "grab-n-go" items, deliciously prepared meals, international cuisines, and everyday essentials. Don't forget to look for our calendar of meal deal specials during the week.
---
How can I order and pickup my food?

Avoid the line and save time! Mobile ordering is available at select college dining locations through Grubhub.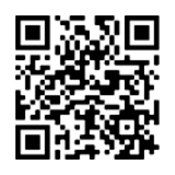 Suffolk County Community College Dining is partnered with Grubhub to offer pre-order pickup from dining locations on campus. To use the Grubhub app to order ahead on campus, you must select Suffolk County Community College under Campus Dining within your Grubhub Account or scan the QR code.
When you add your campus card in the Grubhub app, you can use your declining balance dollars as a form of payment to buy your next meal. Next time, save time with Grubhub and order ahead so your food is ready when you arrive.
No meal plan? No problem. You can use the Grubhub mobile ordering app with a credit card as well. Or, add declining balance dollars to your card and save on the sales tax. It's easy — just click here to add meal plan funds to your card.
Mobile ordering through Grubhub is available at:
The Babylon Student Center Café on the Selden Campus
Captree Commons Café on the Michael J. Grant Campus
Download the app and save $3 on your first order of $7 or more. Use the promo code "NOMS" when placing your order.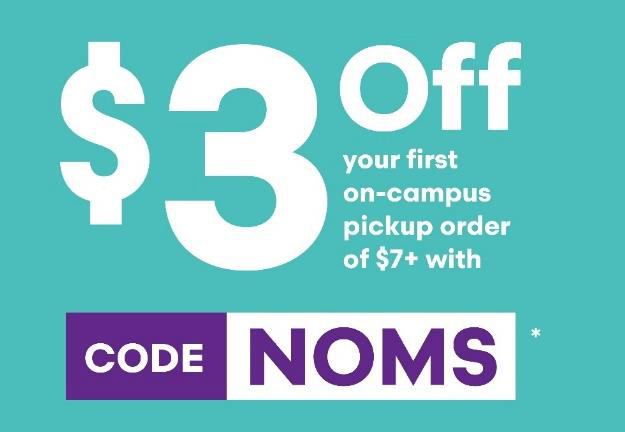 Learn more through the Campus Dish website (sccc.campusdish.com).
---
What happens to any meal plan dollars that remain unused at the end of the semester?
Any meal plan money that is not spent by the end of the fall semester, will roll over in the account and will be available for use in the spring semester, as long as the student is registered for the spring semester. However, any funds not spent by commencement, will be forfeited.
---
What happens if I have a large amount of money left over at the end of the semester? Are there ways to spend it?
Yes. Students are encouraged to monitor their spending habits and utilize meal plan funds throughout the semester. If the remaining meal plan balance is substantial toward the end of the spring semester, Aramark offers items for bulk purchase at its dining locations. Bulk purchase promotions will be announced on the Campus Dish website (sccc.campusdish.com).
---
Can I add more money to my meal plan account?
Yes, any student – whether on the automatic $100 base meal plan or not – may add funds to their account at any time by logging into their food service account on the Campus Dish website (sccc.campusdish.com). Funds can be added by using a major credit card. Please allow 24-48 hours for the funds to appear in the ID card balance. When adding funds to an existing meal plan account, there is a minimum incremental purchase of $25.
---
Can the meal plan charge be covered by my financial aid award?
Yes, financial aid can be used to fund the $100 base meal plan. If your financial aid is in place and you have confirmed your attendance, agreed to have financial aid cover this cost, and/or paid the balance due after your aid has been credited, then the $100 credit will be added to your meal plan account.
---
Can students who are taking less than nine credits also create a meal plan account?
Yes, any Suffolk student on the Ammerman and Michael J. Grant campuses can take advantage of meal plan benefits by activating a meal plan account. Simply visit the Campus Dish website (sccc.campusdish.com) to create an account online using a major credit card. Food purchases made with a meal plan are cheaper than purchases made in the dining area using cash or credit, as sales tax does not apply. In addition, on the second $100 added to a meal plan account, Aramark offers a 5% bonus. Students who add a second $100 to their meal plan balance will actually receive $105 to spend.
---
Where can I check the status of my meal plan account?
The Campus Dish website (sccc.campusdish.com) is the best place to view account status and meal plan balance information.
---
Is there a way to check the nutritional values of the food being offered through Aramark?
Yes, menus and nutritional information can be accessed at any time through the Campus Dish website (sccc.campusdish.com).
---
My card is not working, what do I do?
If for some reason your ID card does not work at the register, speak to a dining manager who will investigate the reason. In most cases, delays are related to funds not yet being added to the card balance. If there are any issues with the card itself, such as a problem with the magnetic strip, the manager will be able to tell you.
---
What happens if I lose my card?
Lost cards should be reported immediately to the Campus Dish website (sccc.campusdish.com) so the card can be deactivated. Students should then visit any College ID station to get a new student ID card and then have that card activated for the meal plan at the dining office in either the Babylon Center Café or the Captree Commons Café. College ID stations can be found at any campus Public Safety office or at the Campus Activities or Registrar's offices on the Ammerman Campus.
---
How is dining preparing to serve under current COVID restrictions?
Aramark and the College are committed to the health and safety of students, faculty, and staff. Food service operations are, and will continue to be, conducted in full compliance with the most current CDC, state and local Department of Health guidelines related to food handling and food service.
CLEANING: Systems and controls are designed to ensure that all equipment, areas and spaces are maintained at the highest level. Our cleaning products (detergents, sanitizers and disinfectants) have the highest possible efficacy ratings. Each associate receives extensive and ongoing training. All equipment utilized in cleaning and sanitation is checked frequently for correct temperatures, concentrations and functionality.
HAND HYGIENE: We provide students and guests with hand wash stations, hand sanitizer, 'no-touch' service options and targeted signage and communication to promote hand hygiene. Employees receive substantial hygiene training.
FACIAL COVERINGS: ALL employees, managers and vendors will adhere to college policy while in our dining locations.
EMPLOYEE HEALTH: Our employees understand the team effort required to keep our students, guests and teammates safe. Employees follow all CDC guidelines to ensure we're doing all we can to maintain health and safety on campus.
---
What if I am a student on the Eastern Campus?
Dining services are offered through another vendor on the Eastern Campus. Students on the Eastern Campus who want to establish a meal plan account in order to access dining locations on the Michael J. Grant or Ammerman campuses, or as a way to use college-wide snack/beverage vending machines, can do so by visiting the Campus Dish website (sccc.campusdish.com) to create an account with a major credit card.
---
Where can I go for more information about the meal plan and dining venues or to contact a dining manager?
The dining website is a one-stop spot for information about anything related to the dining program. Here you can find locations and hours of operation, menu and nutritional information, how to contact the dining managers, catering services, and information about health and wellness and sustainability programs. The website address is sccc.campusdish.com.
---
Can I opt out of the meal plan?
Not all students are required to have a meal plan. If you are in one of the following groups, you may qualify for a waiver:
Part-time student (taking less than 9 credits per semester on campus)
Certain degree programs that require off-site clinicals or course work
Religious or medical reason that prevents you from being able to use the meal plan
Some or all classes on-line or otherwise taken off campus
If you are in one of the above-mentioned groups and feel you may qualify for a meal plan waiver, you must submit a formal waiver request.
---
How can I request a waiver from the meal plan?
Requests for waivers from the Aramark meal plan are available and may be considered based only on documented evidence of dietary restrictions due to a medical condition or religious convictions. A downloadable copy of the form with the eligibility criteria is available at: http://www.sunysuffolk.edu/aramark/meal_waiver.pdf
The College has established a committee to review such waiver requests. To initiate the process, forward the completed form and required documentation to mealwaiver@sunysuffolk.edu
---
How can I contact someone from dining?
Website: sccc.campusdish.com
Call: Ammerman Campus: (631) 732-1838
Michael J. Grant Campus: (631) 273-4374
Email: Figueiras-Bernadette@aramark.com