Welcome to the Beacon Program and the Beacon Portal
Suffolk County Community College's Beacon program provides college credit for certified classes at your high school. If you are taking any of these classes at your high school or at BOCES you may apply to the Beacon program and register for college credit at Suffolk through the Beacon Portal. For more information about Suffolk's Beacon program see: sunysuffolk.edu/beacon
Here is how this works:
Verify with your high school teacher that the course you are taking is certified for the program.
Discuss the opportunity for obtaining college credit for your high school class with your parent or guardian. Note, there is a tuition charge for the college course of $57 per college credit payable to the College. The College will mail a tuition bill to students' homes after they register. Students/Parents will then have the option to mail a check for tuition to Suffolk County Community College or pay online by credit card on MySCCC.
Go to Suffolk's Beacon portal @ https://beacon.sunysuffolk.edu and create a Beacon account. Once on the site:
Click on the High School Student Icon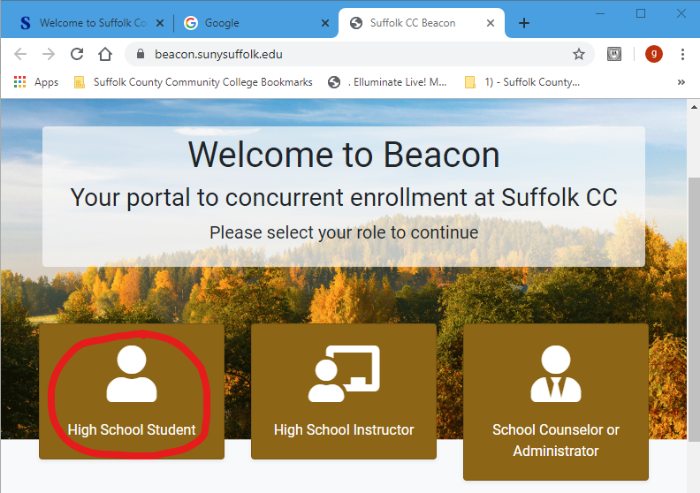 Create a Beacon portal account which you will use each time you access the Beacon portal. The information you provide here will also be your application to Suffolk for the Beacon program and will create your student record at Suffolk, so please respond fully and carefully to the information requested.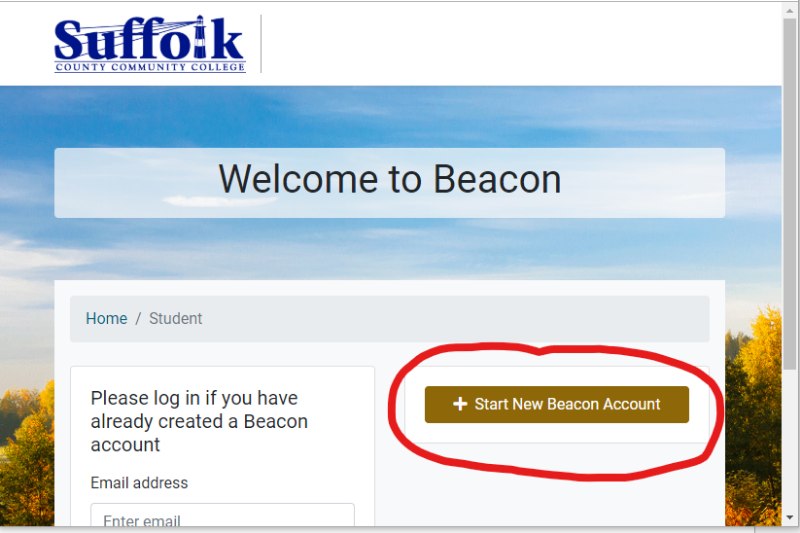 The information requested will include your email address and a password. These are the credentials you will use when you return to the portal for activities such as applying for a class or obtaining your grade. Please note the minimum password requirement for a strong password within the portal.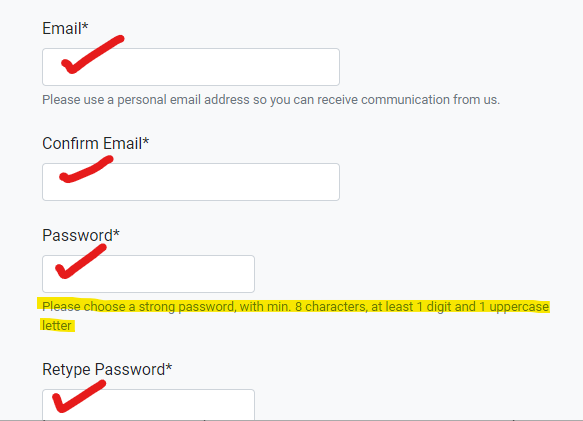 The information requested will include the name and email address of your parent or guardian as participation and registration in the program requires parental consent.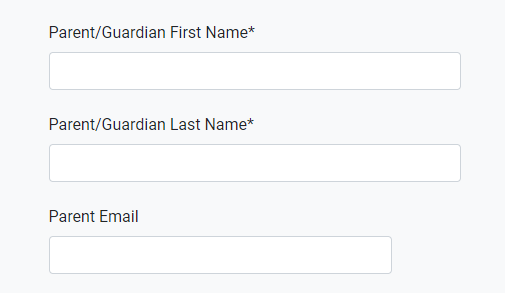 Upon successfully completing the information for your account, your next step is to submit your agreement by typing your name in the box provided and clicking to submit. This will serve as you signature on your Suffolk application.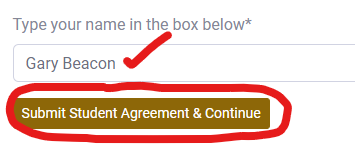 Next, you will be brought to the "Apply for Classes" page, which will display classes certified at your high school. You will also see a tab for courses certified at BOCES facilities. You may choose to apply for classes at this time or return later to apply. See the Registration Guides for instruction on the "Apply for Classes" process.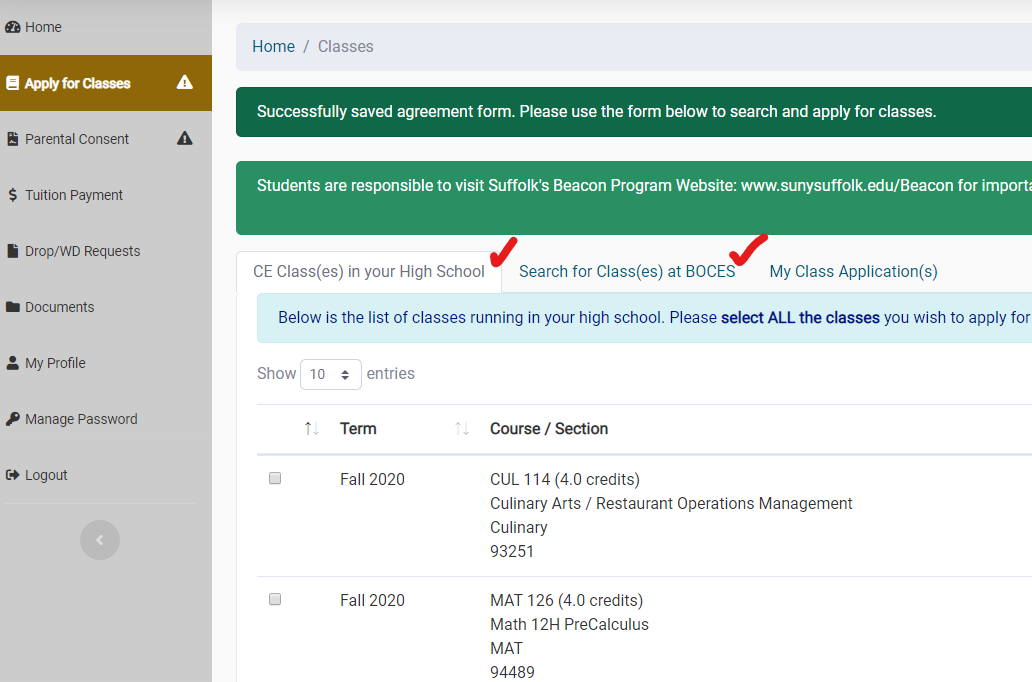 Clicking on the "Home" in the left side menu will bring you to a list of options including items you still need to complete and links to help documents and announcements.

Note: It is important to log out of the portal when you are finished. It is not enough to simply close down the browser. You must log out of the portal to protect your information.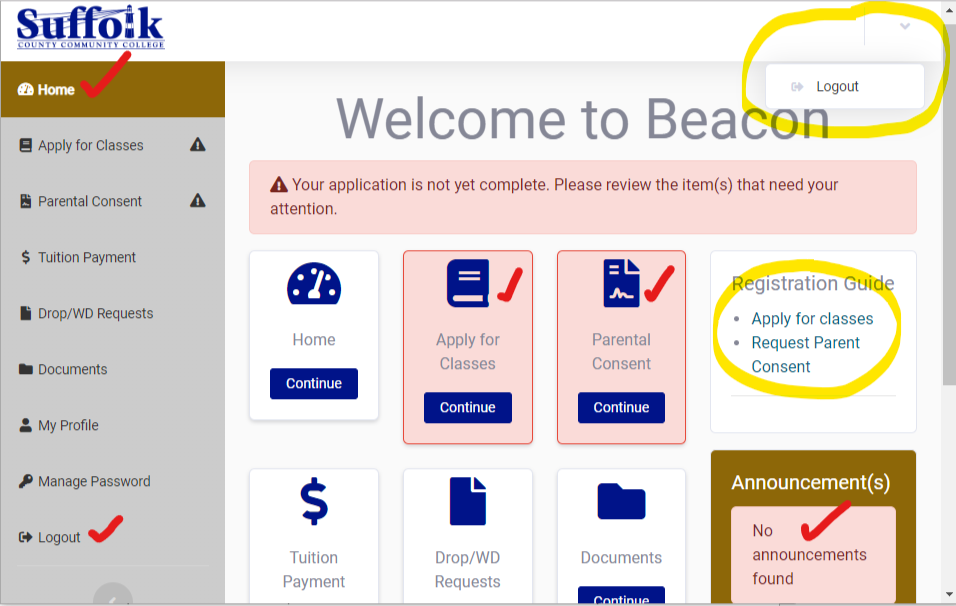 To return to the portal after you have logged out, return to the Beacon Portal https://beacon.sunysuffolk.edu, click on the High School Student icon and use the email address and password you previously entered.