Courses Offered Through Suffolk's Beacon Program
The College has a selection of post regents level courses appropriate for delivery to Long Island high school junior and senior students through the Beacon Program. The majority of these courses are introductory level, general education courses that support statewide higher education goals. Participation in Suffolk's Beacon Program affords a multitude of benefits to enrich the high school student's academic experience, providing advanced-learning opportunities with an effective transition from high school to college learning.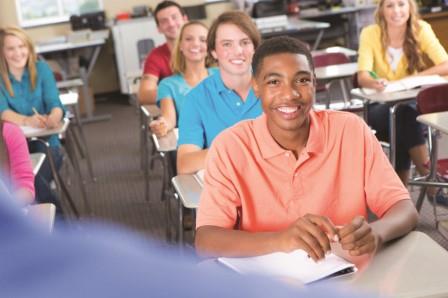 Interested students are encouraged to contact their high school administration or guidance counselor to ensure that they meet eligibility requirements and for a selection of courses offered through the Beacon Program at their high school. With the assistance of their counselor, students may plan their future education by creating a "pathway" of high school courses offered through the Beacon Program, affording students the opportunity to jump start their college education and enhance their college admissions application. The program is designed to provide curricular opportunity and enhancement of the college experience, but not its replacement. Therefore, students may enroll in no more than 30 college credits earned through the Beacon Program.
Courses offered through the Beacon Program to participating Long Island high school students may include: Art, Automotive Technology, Business, Computer Science, Culinary Arts, Digital Filmmaking/TV, English, History, Humanities, LOTE, Mathematics, Music, Natural Sciences, Public Speaking, Social Sciences and Theatre Arts.
Students should consider any college level courses that they have either taken or plan on taking when selecting additional college courses. It is the student's responsibility to discuss college level course taken in high school with their high school teacher or counselor prior to the enrollment of courses through Suffolk's Beacon Program.
The Beacon Program assures the quality of concurrent enrollment courses by requiring the use of the college course syllabi, college-level learning resources and college-level textbooks that are comparable to on-campus courses and approved by Suffolk's academic departments. The College discipline specific course syllabi can be found at Suffolk's Course Descriptions.
Guidelines for Student Eligibility
Students must be approved by their high school teacher or guidance counselor for admission into courses offered through the Beacon Program.
Students must be in their junior or senior year of high school. High school sophomores must get prior approval from Suffolk's Beacon Program administration via the high school teacher. High school freshmen are not eligible to participate in the Program.
The student has demonstrated readiness to take a college level course.
The student has taken the high school and college pre-requisite course(s).
The student has demonstrated through previous high school work, the skills and knowledge necessary for the Beacon Program course OR has exhibited a strong performance in academic subjects relevant to the course into which they want to enroll. A strong performance is defined as a B or better average in the discipline or a letter of recommendation from their principal, teacher, or counselor.
Students may take no more than a total of 30 college credits through Suffolk's Beacon Program during their high school career.
Students taking courses through Suffolk's Beacon Program or Early College Program may not simultaneously take courses at the College outside either of the programs, during those semester(s).
Some Beacon Program courses may have additional requirements for acceptance. Consult with Beacon Program Administration for more information.
Tuition for Beacon Program Students
Affordable, reduced tuition with no added college fees.
Tuition is dependent upon the number of college credits the course is assigned.
In an effort to encourage high school students to participate in this exciting program, Suffolk County Community College offers a tuition rate of approximately one-third of the in-county tuition rate per credit hour of campus-based courses at Suffolk, with no added fees, allowing affordability and accessibility for more high school students to get a jump start on their college education.
Suffolk is excited to offer eligible participating Beacon Program students a reduced tuition for the 2019-2020 of $57 per college credit. Tuition is dependent upon the number of Suffolk credits the course is assigned as indicated on documentation shared with the high school. Tuition payment should be remitted in check or money order payable to Suffolk County Community College. No other form of payment, including cash, can be accepted. Tuition is non-refundable after submission of Student Course Enrollment Application, September 20, 2019.
A typical 3 credit, on-campus course at Suffolk may cost Long Island residents approximately $684 plus additional college fees. The same course offered through the Beacon Program will cost the student $171 with no additional college fees. Suffolk's Beacon Program saves the student in excess of $513 for each three-credit course!
Please take note of the timeline, policies, and due dates as course enrollment applications and tuition checks are binding and non-refundable after the communicated high school collection date (September 20, 2019 for fall 2019 and full year courses, and February 14, 2020 for Spring 2020 semester only courses).