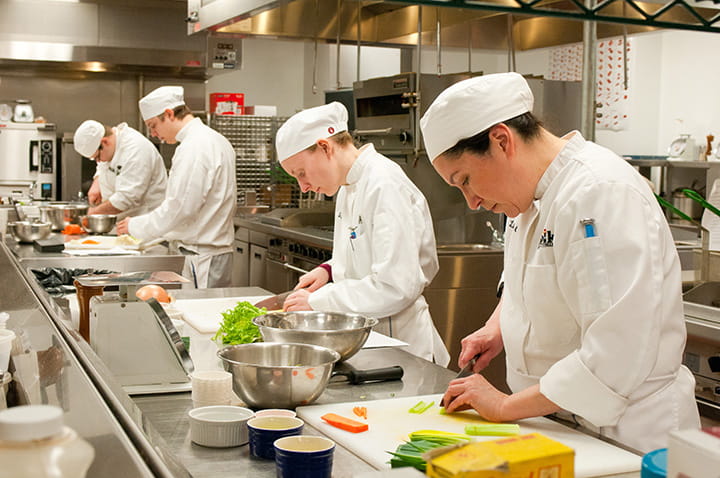 At Suffolk County Community College, we offer degree and certificate programs for those who have an interest in Culinary Arts, Baking and Pastry, and Hotel and Resort Management. Our programs prepare students with a wide range of industry know-how and hands-on experience so that they are ready to succeed. Some graduates choose to go directly into rewarding industry positions as chefs, pastry chefs, caterers, restaurant managers, hoteliers or entrepreneurs in the food and beverage world. Others elect to take advantage of our transfer agreements and move into four-year degree programs.
At Suffolk, our student gain hands-on experience in state-of-the-art kitchens, dining rooms and even a retail bakeshop, the Baker's Workshop. Located on Main Street in Riverhead, the Baker's Workshop serves breakfast goods, light lunches, pastries and gelato to the public. Likewise, our popular lunch and dinner events ensure that, in addition to cooking in the classroom, students are also serving the public in an a la carte dining setting. Students also learn about beverages and creating a menu, and get a first-hand view of Long Island wines. That's in addition to practicing the skills needed for running a business – from planning to employee management, to budgeting and marketing.
Our faculty are renowned chefs, bakers, restaurateurs, caterers and hoteliers from around the nation and Long Island. Student receive personalized attention within intimate class settings (8 students to an instructor in our kitchens). Students also can participate in clubs and enjoy guest lecturers. Student internships are available within our own Baker's Workshop or one of the many well-known regional businesses. Our programs even offer a study-abroad option, including an option to travel to Italy for cultural immersion and practice time in Italian bakeshops, restaurants or hotels!
Whether your focus is culinary arts, baking and pastry, or hotel and resort management, come join us at Suffolk's Culinary Arts and Hospitality Center where the only missing ingredient...is you!
Course Description
div id="lightbox display - no content updated