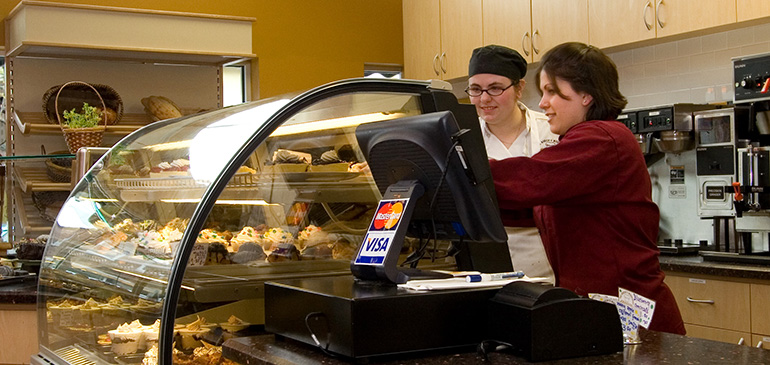 In addition to classroom and lab experience, Suffolk's Culinary Arts, Baking and Pastry, and Hotel and Resort Management Programs include an Internship requirement to fully prepare students for entry into these fields.
The internship program is student-centered and based on the individual career goals of each student. With faculty guidance and with the supervision of a vetted industry mentor, student interns work 200 hours in a commercial establishment side-by-side with industry professionals to hone their skills. Students maintain daily work logs and receive feedback and formal evaluations from their workplace mentors. For many Suffolk students the internship is an entry point into a permanent employment position at the end of their program.
Our interns are sought out by some of the top restaurants, country clubs, and catering facilities on Long Island. Suffolk baking students have the opportunity to work in small groups with our faculty at our own retail café, The Baker's Workshop. Hotel and Resort Management students may intern in a myriad of lodging establishments on Long Island, including internationally branded hotel chains, independent exclusive inns and full-service, luxury lodging establishments.


Student Comments
I absolutely love the program and the internship. The internship helps provide certain skills that cannot be taught in the classroom. A hands-on experience is really how this course needs to be taught and I love that the school requires us to take a step into the work field to really get to know what it entails. The internship's classroom requirement is also a great way to learn about other students' experiences that you may not go through yourself. I thoroughly enjoyed going to class each week to hear what other students were going through at their internships.
Ashley White
Hotel/Resort Management
Intern, Summer 2017
This internship has given me such a strong foundation that I can build on. I liked coming to class and sharing our experiences. It is set up to help us learn from our professor and our industry mentor, which is extremely helpful. I liked doing weekly work logs because I could recap on the things I had learned. Sometimes when I was typing them I would think about how I could have handled something differently, so it was a good time to reflect.
Alex Lincoln
Culinary Arts/Restaurant Management
Intern, Summer 2017
Recent Student Internship Sites
Locale Gastro Bar Pizzette - Patchogue
North Fork Table and Inn - Southold
Stone Creek Inn - East Quogue
Sand Bar - Cold Spring
Westhampton Country Club - Westhampton
Jewel Restaurant - Melville
Hyatt Place East End - Riverhead
The Andrew Hotel - Great Neck
SpringHill Suites by Marriott - Medford
Montauk Yacht Club - Montauk
Topping Rose House - Bridgehampton
Hilton Long Island - Huntington
For further information about employing Suffolk interns, please contact the Culinary Department at 631-548-3700.
Course Description
div id="lightbox display - no content updated