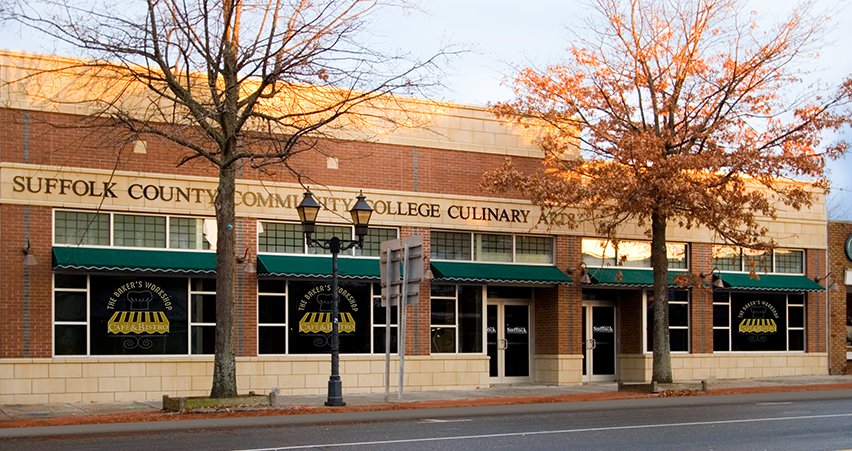 Suffolk's Culinary Arts and Hospitality Center is located on Main Street in downtown Riverhead, New York – the gateway to the Hamptons on the South Fork and world-recognized vineyards on the North Fork.
Our Center is home to our Culinary Arts, Baking and Pastry, and Hotel and Resort Management Programs, among others. It includes fully-equipped commercial kitchens that serve as culinary and baking labs, as well as several classroom spaces and the Sub-Zero Wolf Demonstration Theater, a state-of-the-art demonstration facility with overhead wide-screen projection and stadium-style seating. It is the perfect venue for hands-on cooking demonstrations, guest lectures, and food and beverage tastings.
Our multi-purpose room offers seating for up to 175 or can be divided into smaller rooms for groups up to 28. It is a venue for large dining events and intimate gatherings. All of our meeting spaces are "Smart Rooms" that also offer capabilities for comprehensive audio/visual presentations.
The Baker's Workshop is a busy, student run retail bakeshop serving fresh local coffee, breakfast pastries, light lunches, desserts and house made gelato. Diners may enjoy their purchases in the adjoining Parr Atrium dining area. The Baker's Workshop houses an additional fully-equipped commercial baking kitchen. Here, students get hands-on training in both the front and back of the house, as the bakery is run entirely by students, under the guidance of their chef instructors. Find out more information about the Baker's Workshop.
For inquiries about our Culinary Arts, Baking and Pastry, or Hotel and Resort Management programs, tours of our facilities, or rental of meeting spaces, please contact the Culinary Center.
Directions to the Culinary Center
Course Description
div id="lightbox display - no content updated